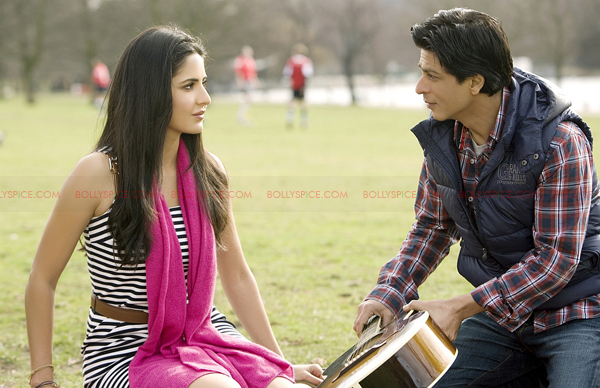 After a gap of eight years, Yash Chopra has returned to direction with with this untitled film, which stars Shah Rukh Khan, Katrina Kaif and Anushka Sharma.
This is the first time actor Shah Rukh Khan will be seen sharing screen space with Katrina Kaif in this romantic film. The duo spend two months in London shooting for this movie.
Everybody who has worked with Katrina have always praised her for her hard work and commitment. SRK feels the exact same way and calls the experience of working with Kaif wonderful. "I got to shoot with Katrina Kaif for the first time, which was wonderful. I do a couple of films a year and I haven't worked with her. I think she is a stupendous actor. Everyone says about her being hardworking and very talented. Its more important how we work together.. how we work as a team," said Shah Rukh to PTI.
SRK even tried to adapt himself to her work approach. He said: "When I work with a lot of young actors, I learn a lot as they have a different way of doing scenes. I have worked now for 21 years, they have been working for 10 years. When Katrina is doing a scene, she has a different way of approaching it. And when she approaches it differently, as a co-actor I also try to think if she is doing it differently, there must be a reason so let me also try it and adapt myself to do it differently. So that give and take has been absolutely fantastic."
And if we can judge from the stills that have been released by Yash Raj Films then we are in for some awesome chemistry.