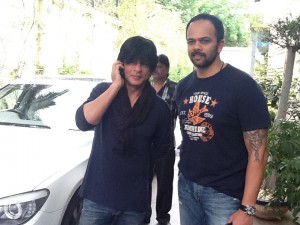 Rohit Shetty is known for making sequels. His past movies Golmaal and Singham (Singham 2 is in the making) are the proof of it. So now we hear that the director is planning to make a sequel to this year's blockbuster Chennai Express, which is still creating box office records.
"Recently we (Rohit, Deepika Padukone and I) were driving back and we realised that we will not see each other as regularly after all this? And I told them I am feeling bad, as did Rohit and Deepika. So, Rohit asked if he should already start writing something, so that will give us something to look forward to. Even if it's a year later, Rohit has said he will work on something", said SRK. However when quizzed about it being a sequel to Chennai Express, he said, "Some other film may be, inshahAllah!"
Currently the Chennai Express trio – Rohit, Deepika and Shahrukh have been busy celebrating the success of the movie. With SRK starting the shoot of Happy New Year in September and Rohit being busy with Singham 2, the audiences will have to wait to see them together again.