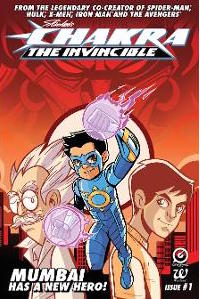 World renowned comic book legend Stan Lee is planning to transform his Indian comic book series Chakra: The Invincible in to a Bollywood film. Lee, who is famous for co-creating iconic comic book heroes such as Spiderman, Iron Man and X-Men, is in talks with Graphics India boss Sharad Devajaran with regards to using his Indian superhero character for the purpose of a live action film.
Chakra: The Invincible, is based on the story of Raju Rai, a teenager who uses his scientific knowledge to unlock the secrets of human potential, as well as fighting against evil.
Lee is already negotiating with top actors and directors within the Indian film industry in order to adapt his comic book series for the silver screen. Although Bollywood has already experimented with such films before like Krrish and Ra.One, this will be the first time an Indian superhero film is being made using the concept of an American writer and publisher.
Pre-production on the film is scheduled for 2015. We will of course bring you all the latest updates on this highly-anticipated project!