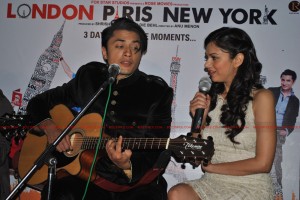 It was a star-studded occasion as Indian cinema's latest acting sensations Ali Zafar and Aditi Rao Hydari, together with debutante director Anu Menon, launched the official music soundtrack from the highly anticipated new Twentieth Century Fox and Rose Productions' romantic comedy London Paris New York in the capital of India – New Delhi. London Paris New York will release in cinemas on 2nd March 2012.
Although musicals are the tradition in Indian films, London Paris New York is likely to be the first film where the lead stars have actually sung the songs themselves. Music plays an integral part in the film and mirrors the personal journey of the lead characters Nikhil (Ali Zafar) and Lalitha (Aditi Rao Hydari), as they meet in London, flirt in Paris and fall in love in New York, for one night over eight years. Adding further impetus to London Paris New York, Ali Zafar has penned and performed the musical score for the film. He cites his aim as being to create a fresh sound, which experiments with various genres in line with the emotions showcased in the film.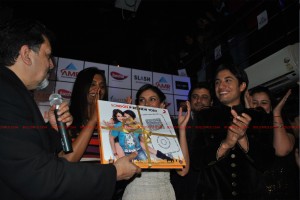 "I wanted to create sounds that are fresh and since the film touches on different emotions I could experiment with genres", he explains. He used Pop influences in London, Electronic Sufi in Paris and Blues Rap in New York, all blended together with a strong Bollywood undertone. The musical score also features its multi-talented stars Ali Zafar and Aditi Rao Hydari singing on the official soundtrack. The first song to be taken from the official soundtrack, entitled: 'Woh Dekhne Main', has the lyrical talents of Aditi Rao Hydari on lead vocals.
Speaking about his musical heroes, Ali Zafar says: "It's a big compliment for me when people compare me with Kishore Kumar because he is one man who I always look up to. He was so talented that I cannot dare to stand any closer to him. He was somebody who used to sing and act".
London Paris New York tells the quirky tale of two star-crossed, twenty-somethings, who find themselves drawn to each other in the most unlikely of circumstances, amidst the exciting backdrop of three of the world's most vibrant cities – London, Paris and New York. The film is a coming-of-age comedy designed to appeal to the youth, 'London Paris New York' speaks their language, reflects their aspirations and the angst and joys of falling in love.
London Paris New York is released through Twentieth Century Fox on 2nd March 2012