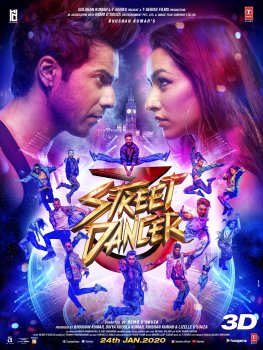 Street Dancer 3D takes the film franchise that is Street Dancer to its expected next level, with the returning characters played by Prabhu Deva, Varun Dhawan and Shraddha Kapoor being joined by the new queen of dance Nora Fatehi for a dance off for the ages. Throw in the India-Pakistan rivalry and a global dance competition, and there is nowhere in the world of dance left to hide. The previous films have been successful in the past on remade music, some of which has come through here as well, which like the title song for Race, Dhoom or Golmaal, give the whole series an overarching flavour. But still this album will also be something special, and the use of Taniskh Bagchi, Baadshah, Guru Randhwa and Sachin-Jigar, give the audience and listener both a feast.
If one is to be a street dancer, they must be ready for Muqabla in all circumstances. In this case Muqabla refers to the first song of the album, a remake of the lowest proportions. The original song has been the unfortunate loser in the super success of remakes of another hit song from the original film (Kadhalan in Tamil, which was translated as Humse Hai Muqabla in dubbed Hindi) Urvashi and was a superhit song in all languages. It was also a pioneer in CGI, so visually speaking also it was ahead of the curve. There is equality in the sexes, there is great dance skills on show and very few of any of these traits has been reproduced in the remake. The singer is light, there's very little female part, the mix breaks up the song just as listeners are getting into the groove. Maybe it was a mistake to take on an AR Rahman song that he himself hasn't tried to remix.
Baadshah takes to the mic for Garmi, the effective item song of this film, a speciality song for Nora Fatehi. Its Arabic and hip-hop influences mixed with Baadshah's style of rap are perfect for some smooth moves and raunchy lyrics in the typical item song style. Also, it manages to sound like an extended Baadshah rap break from a few years ago, but at least in this case it's not an exact copy of any one of them.
'Illegal Weapon' is a Punjabi pop song by Jasmine Sandlas and Garry Sandhu about how people's habits can make them seem unfriendly to others… to the point of being weapons. Illegal Weapon 2.0 gives the same artists the production values of Bollywood cinema to redo the song to Shradha Kapoor and Varun Dhawan, as they battle it out on the streets. This is very much in keeping with the trends of the last year or so with Punjabi artists being invited into Bollywood to make their music better known with a remix that barely hides the original. As an example, take Garry Sandhu's last song in this manner Hauli Hauli from De De Pyaar De. It's hard to tell what is 2.0 about this song, except for the level of dancing and a few lyrical choices.
Bollywood would be empty without its sad songs, so the next piece is Dua Karo by Arijit Singh. Built for Varun Dhawan, very much a song of redemption, seeking to come back to the path left but not forgotten. While not exactly re-made, this is inspired from a folk-pop song by Jaspal Mony (sung by Ram Shankar). Arijit of course brings his own skills to this and finds a more powerful way of delivering an already strong song.
Just when it looked like the obvious remakes were out of the way, the next song is Lagdi Lahore Di… originally by Guru Randhwa. Again, probably the biggest change in this is the visuals with plenty of skills on show but realistically outside of a louder beat, this song has not changed at all from the original. In a lot of cases, the lyrics would normally be 'Hindicized' but even that has been skipped in this case, possibly to give the original the best chance of a few more listens.
"Suno Suno eh duniya walo buri nazar na hum pe dalo" is a line not heard for many, many years (2011,2012,2013,2016,2018 and 2019!) when it was being used in various Republic or National Day functions. The original song was written and sung by Shankar Mahadevan and he has performed this well-known patriotic song plenty of times around the world. Street Dancer 3D also brings on its own version of Hindustani, sung by Shankar Mahadevan and Udit Narayan but like a lot of the songs in this film, there isn't much difference from the original.
What better then to go from super patriotic to super iconic… "Bezubaan Kab Se mein raha, beguna seheta hi raha". Bezubaan Kab Se, is very much the motif song of this whole series, with each film getting an upgraded version. 3D also gets an upgraded version, with this one being slower and more deliberate… hitting out, punching harder. Compared to what Pritam did with Allah Duhai Hai in Race 3, this follows a very similar path in its maturity as a tune.
The maturity continues as the album put down 7 songs before getting to the love song, Gann Deva. Divya Kumar serves up a sad song, filled with heartbreak, but more so betrayal and pity. The lyrics tell of losing spirituality and in doing so losing one's love. A slow driving beat nails this home as Sachin-Jigar drive home the consequences of infighting.
To complete the trifecta of adulthood, Gurinder Seagal sings Pind. Somethings are painful to the soul at a heart felt level, others defy logic so far that they hurt by showing off the audience's privilege. But the line "Menu Pind jana hai" with the visuals including burning of a passport and one of the supporting cast taking off his turban to get a haircut, hits at both levels. The music is a slow dirge and the singer is full of sorrow, which in themselves are tear-jerking, but the visuals hit home in a way that music alone cannot.
However, a dance battle wouldn't be complete without a face off between the female protagonist and antagonist… Shradha and Nora. Thus, comes Nachi Nachi, an up-tempo version of a classic bhangra tune, re-built for purpose and varnished with some superb throw down lyrics that Naezy and Ranveer would be proud of. If listeners really listen out carefully, the original song shines through almost by accident as its visually hidden by one of the greatest dance moves ever in Bollywood history. An effective, if copied song, which doesn't mean much without its visuals.
To complete the album, Sip Sip 2.0 is a promotional song, so most likely won't feature in the movie or if it does, only as an ending credits song. While not obvious from the get-go, this is really a male version of 'Illegal Weapon 2.0', with Garry Sandhu and Jasmine Sandlas switching song time to allow Garry to sing a male version of the song. A well-covered remake is completed by the visuals where Varun dances this without any of the anger that Shradha's performance is in 'Illegal Weapon 2.0'.
It was obvious from the start that there would be a few remakes in this film, whether it be because it's the third instalment in a strong franchise or that it's a film of 2018-2020. However, to have 9 out of 11 songs as some level of remake is taking things a bit too far. Even then, none of these remakes apart from 'Nachi Nachi' stands out away from its original, making a space for itself. The visuals will make this album a superhit but the songs themselves aren't doing the film any favours.