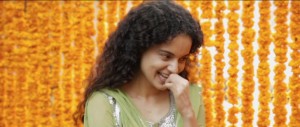 She has played by her own rules and has been in so-called cold wars with numerous celebrities ranging from Ajay Devgn to Sanjay Gupta but Kangna Ranaut won't bat an eyelid as she calls the shots as they are.
"I am not a very easy person to be with, I am very stubborn. I have hang ups. I am not one of those people expected to do the expected. But at the same time I have always taken the responsibility of my actions," says the Krissh 3 actress when speaking to TOI, who's next film Queen has sparked lots of interest with the trailer release.
However, you have to wonder. Is all the brawls real? Aamir Khan was supposedly quite miffed when Kangna backed out of Ghajini yet that didn't stop him from complimenting the actress in promotional press meets. Or is Kangna becoming more of a social butterfly a la the other leading lady in Ghajini? She says no to both.
"It is not that I am having more friends now than earlier. It is the same people who did not like me and never liked me, and same people who liked me earlier. So nothing has changed." Makes sense. What about the Ghajini fiasco you ask? The lean lass point blanks says she was never offered the role to walk away from it.