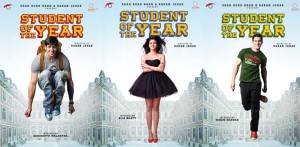 Student of the Year gets the Midas touch in the movie now. Yes you heard it right! A secret source informed us that the Badshah Khan, aka-Shahrukh Khan is going to play cameo in the movie and not only produce it.
Initially Shahrukh Khan was supposed to act in the movie but later that idea was cancelled and he was just going to be a part of the production team for the movie. Now, as per the source it is heard that the Badshah will feature in the much awaited Student of the Year.  If Shahrukh wouldn't face the camera for Student of the Year, this would have been the first movie where the King Khan would not be present in a Karan Johar directorial. But as they say, "best friends do everything for each other."
Student of the Year stars new comers Varun Dhawan, Siddharth Malhotra and Alia Bhatt. With Shahrukh Khan's touch, Karan's direction and working under Dharma Production it will turn into a dream debut for the three future stars.
To know more, follow Dharma Productions on: http://www.facebook.com/DharmaProductions