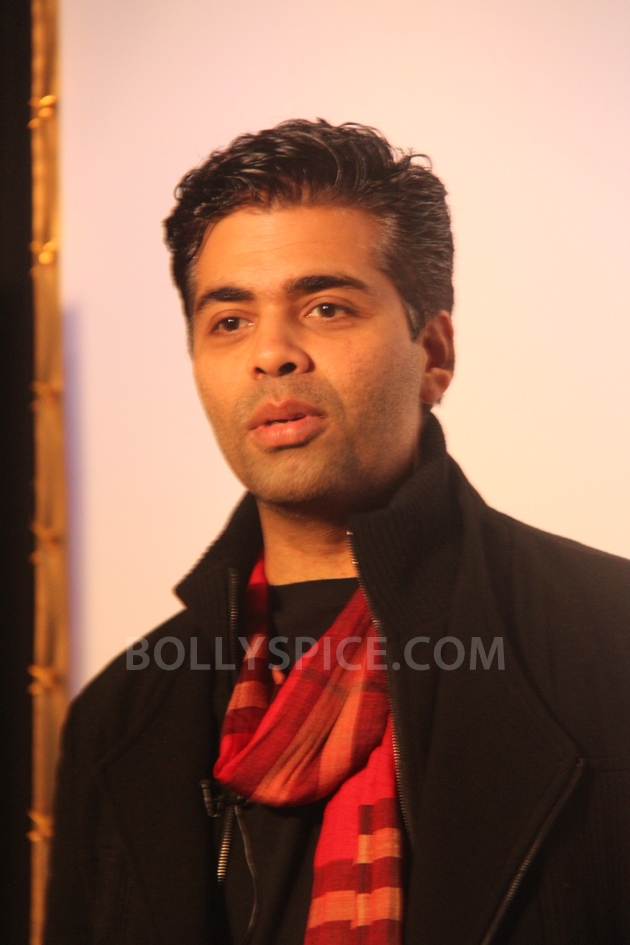 Karan Johar is back with yet again a very different film. Having done romance, family drama and serious cinema, his next film is Student of the Year, a youthful joyride through college years. His first film without close friend Shahrukh, this time Karan is working with and launching three newcomers, for the first time in his career. BollySpice caught up with Karan, or KJo as he is popularly referred to, in London where he brought his cast down to introduce them to our great city and to the Brit-Asian media.
Can you tell us about Student of the Year (SOTY) in your own words?
SOTY is a quintessential high school film and has a strong layer of relationships and friendships. It will remind you of the days that went by and those of you who have passed their prime like I have! It is a film about friendship and male bonding and those are some of the most precious relationships. This film is a joy ride, you will come out smiling, rather than crying! I felt young making it, so I hope everyone that is not young, will feel young watching it and those that are young will feel in the zone!
The CEO of my company is my childhood friend who I have know since the 5th standard, which is like thirty years now and more than friendship he is like family to me. So that is what I wanted to show on celluloid – a friendship that no matter what it went through, it lasted. When you watch this film I know you will think about, Facebook, text, or want to Tweet a friend.
How was the experience of working with newcomers?
This is a really special film for us at Dharma Productions. It is the only film with which we have launched completely new talent. We have introduced seven new actors, three of whom are our main leads. Each one of them is different from the other. Of the leads two of them have film lineage and one of them is from a completely non-film background. This film was more impulse than calculation. It was a spur of the moment decision. This was actually a film I wanted to produce and not direct. I wanted one of the guys in my company to make it. At one point I just thought why am I giving this to someone else? Yes the film is very simple narrative, it is not path breaking, in terms of soul – yes it has it. In terms of presentation – yes it has that. I have made a serious film (My Name Is Khan), but for me cinema is escapism and this (SOTY) is fun and fabulous.
Is it a risk casting and directing a film with three rank newcomers?
Nothing ventured, nothing gained! Taking risks is imperative when you are in certain positions. Playing safe is the easy way out, but taking a different route altogether is definitely more challenging and therefore satisfying. Launching new talent is something all people in the industry in certain positions should do. We are really short on acting talent. We have eight to ten movie stars that are in every big feature film. I needed to challenge myself and take one step ahead as a filmmaker. This time not in terms of content, but in taking on newcomers.
What were the qualities which made you cast your actors?
Varun and Sidharth I sussed out on MNIK, as they used to stand in for Shahrukh and Kajol. Both these boys had what I felt was the x-factor, as not all good looking people look good on camera and have screen presence. After a series of readings, I realised that these boys were right. They bring a certain kind of vulnerability mixed with talent and that combination never fails in the movies. Alia was made for films! She is a full Hindi film actress. She has Kareena Kapoor's sole somewhere in her. She suddenly becomes like her sister Pooja at times, but also has this impish Preity ZInta quality.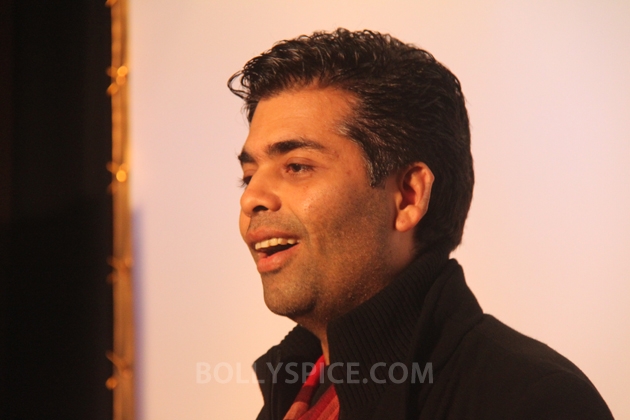 Are you nervous about the success of the film?
I am as nervous as any film of mine. With this one there is no ballpark comparison. There is no estimate anyone can make . We have made it in a scale that would warrant the presence of movie stars but with new talent. We have pulled out all the stops and have done everything so it is positioned as a large movie experience. So yes, the nerves are high, but the excitement is even higher! When you work with first time actors you feed off their energy and excitement. It is like graduation day for them.
What are your expectations from the box office?
Well look at a film like Barfi, it is going to touch 100 crores. No one ever anticipated that, no one ever believed it would happen, but it is not about that. I believe a film has to last.. What is 100 crores if its not going to last forever? Today I think a film like Kahaani or Vicky Donor will live longer than a lot of 100 or 200 crore films. Taking nothing away from those 100 crore films and my Agneepath was one of them, which I am very proud of, but there are still some gems, like Udaan, which did only 3 crores at the box office. I feel it one of the most genius films I've ever seen and it was made in a miniscule budget. It has such a tiny budget but has such an immensely huge heart! So as film makers you know when a film is loved and that is what is important. Box office is just a number and cinema lives beyond numbers.
You previously represented college years in Kuch Kuch Hota Hai (KKHH), so how has college life changed in 15 years with SOTY?
College life has completely changed. This generation is so clued in. I can not even pretend to know, so it is very challenging for me. It is a completely different world to KKHH, I did glam up the college institution (Saint Theresa), as of course nothing in real life looks like that. What was imperative though, was that we kept the soul and the connect to the characters. While they are all glossed up, because that is the way I like it unapologetically, but we will try to do that aesthetically to keep the characters and their situations very rooted, things that you will identify with.
Sport has always been a feature of all your films, how important is sport to you?
Sport is something I know nothing about, but somehow I end up putting sport into all of my films and I am the most unsporty person you will meet! Cricket in K3G, American Football in Kabhi Alvida Na Kehna, Basketball in KKHH and now a triathlon in SOTY. To me ESPN doesn't exist as a channel, so I do not know why I keep integrating sport into my films. I think it is something subliminal. I remember in KKHH I kept saying "And then score the goal", but Shah Rukh took me aside and said "It's not called a goal, that is football and this is basketball!' In the end he actually directed the sequence, so we credited him with it.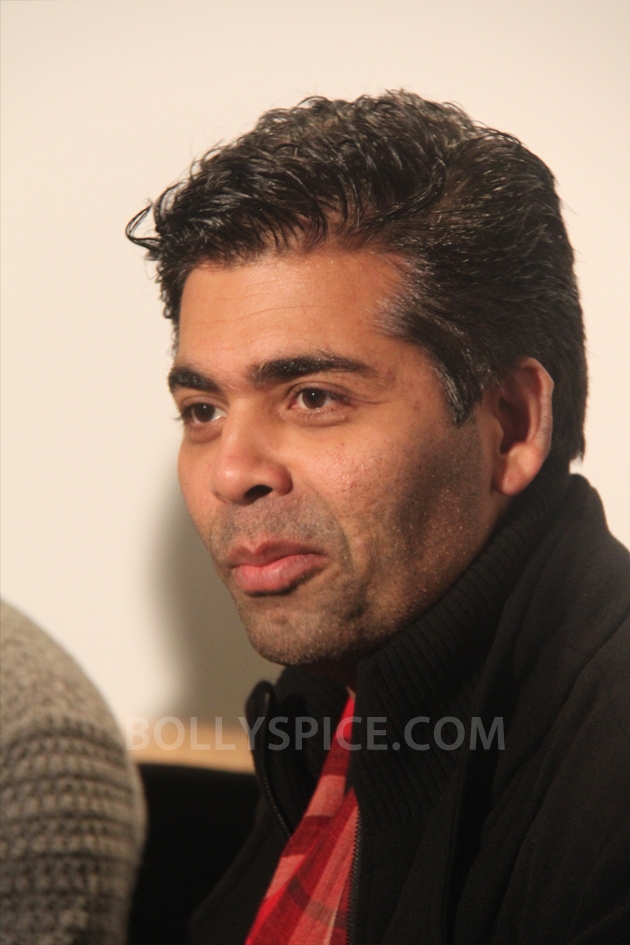 K3G opened with a cricket scene and Nikhil Advani, my assistant said "It's the last ball and the last over, so the ball can't be shiny and Hrithik Roshan's kit can't be so white, it's not real!" I responded "Are you mad? It's the first shot of the film and Hrithik is the hero of the film and I never said I was making a real film!" But this time round for the triathlon we got a professional from America to come and shoot that part, as honestly I did not know what I was doing.The triathlon has been extensively shot over a period of 12 days. As a filmmaker you do not have to know everything, you just have to be honest about your limitations.
Your last film was a strong issue based film (MNIK) and this is a more typical Bollywood film. How does your mindset change given the extremes of the opposing genres?
Every film one directs is a result of your state of mind. So freshly out of college: heartbreak, first love, puppy love – all defined my debut endeavour (KKHH) and I met with success, thankfully. I felt very reverent towards my parents for making me the man I am and providing me with that emotional confidence, so I made a film next (K3G) which was an ode to families and my parents, to show my gratitude. Following that there was a cool revolution in Indian cinema – Dil Chahta Hai had made a big mark with the urban youth and I felt that I should also attempt to, as demographically I was also from that zone, so I felt that I should write a film that was also high on it's 'cool' factor. So I wrote and produced Kal Ho Na Ho. After that I lost my father and went into reflective mode and in that reflective mode I met lots of people and heard about their failed relationships and how marriage was taking a beating and that divorce was the new marriage and I decided to attempt a film about inter-relationships, divorce, infidelity. So I wrote and directed Kabhi Alvida Na Kehna.
After that I felt as a filmmaker I had provided entertainment for both the national and diaspora audience, but I never felt I had tackled a global issue, I had never dealt with a social situation and felt very strongly about the misrepresentation of religion and how it can be misconstrued and held against humanity and there was born the idea of MNIK because being a filmmaker I felt accountable to society and to human beings by and large. That took a heavy toll on my emotionally because it was a heavy experience for me as a person.
So I felt I needed to make my 'holiday film' go back to song and dance and glamour, glitz and glory. To go back to school and college where we build some of our most special relationships and that is how SOTY was born. I felt that if I did not take new talent then I was not leveraging the position that I had built over the last fifteen to sixteen years. I call this my resort film, my happy holiday film, but even on holiday you have your quiet and reflective moments, which will also happen with SOTY. You will go through the energy of an entertainer but somewhere at the end of the film you will go back into reflective mode and it will make you believe that there is nothing more important than the relationships we build in our lifetimes.
Student of the Year releases worldwide on 19th October. Make sure you check out our exclusive video.