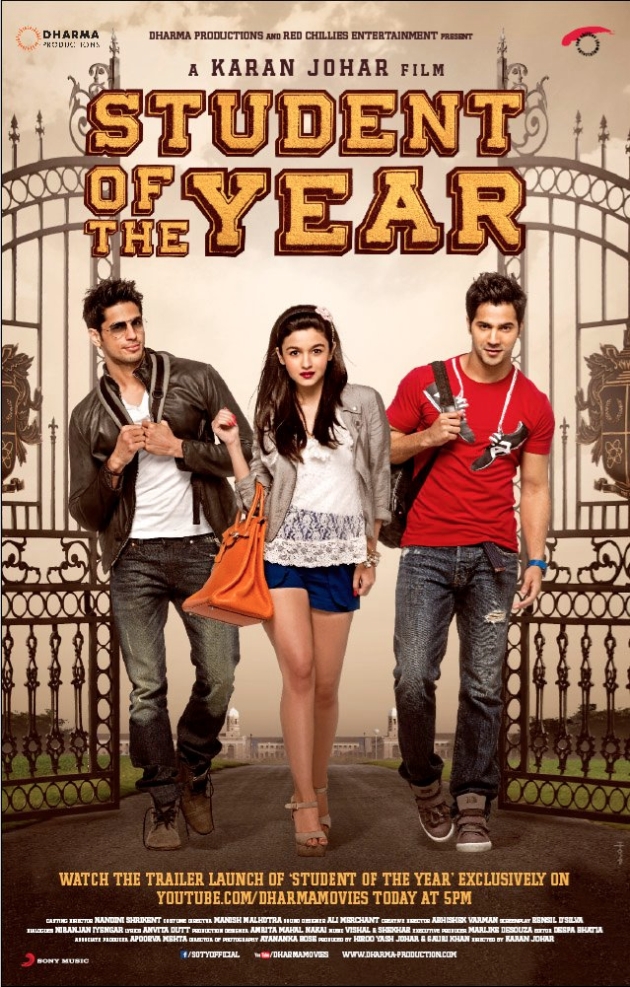 Student of the Year, as mentioned before in our albums feature, is hotly anticipated with Vishal and Shekhar replacing Shankar Ehsaan and Loy as Karan Johar's go to music directors. Yet it's an interesting pairing because with most KJo movies there's a song formula that can be hard for new music directors to put a new stamp on the usual Punjabi/college/sangeet number. Perhaps looking to recreate the success of his debut Kuch Kuch Hota Hai, Karan is launching three star kids Alia Bhatt (Soni Razdan and Mahesh Bhatt's daughter) Varun Dhawan (David Dhawan's son) and Siddharth Malhotra who all look to conquer and charm at the box office this year. With the "Disco Deewane" redo Johar and his team are halfway there as it's a remake song done right.
Starting with that gem, Disco Deewane, the album begins with a bang! It's even better that Vishal and Shekhar did not opt for someone else to replace Nazia Hussain's inimitable voice for this iconic song. The song is a much fun club song because it keeps that Disco tempo throughout, not too fast and allowing the singers to show off their talents. Sunidhi Chauhan and my favourite Benny Dayal are in their comfort zone here, and they sound fabulous. The bridge transitions to the Ishq-wala Love, which is integrated seamlessly into the song as it ends. The song is so insanely catchy and the arrangements are brilliant, which emphasize Chauhan, Dayal, and Hussain's melodious voices. With the iconic chorus line, it's arranged incredibly well with Vishal's English lines not too distracting in order for it appeal to the younger crowd. Keep this on repeat!
Next is Ishq Wala Love, which is such a dreamy romantic number which works because of its minimalism. The tabla beat, and acoustic guitar complement Shekhar Ravjiani, Salim Merchant, and Neeti Mohan's verses seamlessly. The song avoids cheesy territory because the lyrics convey those first pangs of loves so uniquely and eloquently, with the singers do justice to the material. When the orchestra chimes midway through the song, it gives the song some of that grand and sweeping scope that we expect from a Kjo romantic track. The song is just flawless, as the singers sound beautiful and the minimal arrangements on the track work in its favour for keeping this a very memorable song.
I'll admit that I'm definitely a sucker for a rollicking and fun Punjabi bhangra track which is why Kukkad appeals to me. The song is definitely fun and gets you dancing with that addictive electronic melody fused with the tumbhi. While it's got an addictive hook, the song feels a tad unmemorable because it sounds so much of the bhangra songs that came after Band Baaja Baaraat and Bittoo Boss. Yet Shahid Mallya sounds mesmerizing with this song, trying out a more peppy track than his usual duties on romantic and mournful tracks. The girls Nisha Mascarenhas, and Marianne D'Cruz do the best with the Hinglish lyrics which are quite unnecessary here. Give this a listen or skip it.
One of the best tracks is Radha, which throws you for a surprise with its lovely classical opening by the ever-reliable Shreya Ghosal. Again it's the unnecessary English lyrics that annoy but thankfully these interludes are not too intruding. The song fuses that desi sound with a fast tempo that keeps this song peppy and fun. The tabla beats and orchestra work so well together and works up to a fabulous melody. Vishal and Shekhar join in the fun, and make sure you keep singing that chorus, which is completely addictive. But the surprise element definitely brings this song to another level, and that is Udit Narayan's cameo during the latter portion of the song. I'm going to guess that Narayan's entry might mark Shah Rukh's cameo? Anyway this song completely stays with you after Narayan's entry as the tempo speeds up and ties the song up nicely.
Another gem is Ratta Maar, which is all about that exam stress and college pressure. The lyrics by Anvita Dutt, and Vishal Dadlani are fun, and capture all that anxiety with school without being too wordy and clunky to sing. And finally here's a song that seems to integrate the Hinglish in a better way than the previous songs. Vishal Dadlani and Shelfali Alvarez take the vocals, where they sound very evocative, and lovely together. The acoustic and gritty riffs throughout keeps this song another great school song after 'Give Me Some Sunshine.' Keep this one on repeat!
With the opening strands heard in the trailer, Vele, immediately hooks you in with its addictive beats. Vishal and Shekhar have a fabulous chemistry and jugalbandi between them in this song, which displays their gritty voices. The slangy lyrics are great with this bhangra-hip hop fusion and convey that youthful abandon. However, as composers they get this song spot on with the catchy electro beats, with some wicked dubstep beats thrown in,  and desi elements that work together seamlessly. The rap verse is tolerable and Vishal shows a bit of versatility here! Definitely one of my favourites on this album, as it makes up for the middling Kukkad, and is just plain fun!
We end the album with Mashup of Love, remixed by Kiran Kamath who does brilliant job of integrating the songs of the songs around each other effortlessly. It definitely fulfills the requirement for a remix needed on most albums but this one improves on some of the songs and makes it a good club track.
Student of the Year, is one of the most fun albums of this year with its peppy and polished sound that completely works for its youth audience and for a Karan Johar film. While the overriding English verses in most of the tracks are there to appeal, Vishal and Shekhar make sure it's the music that flourishes. Definitely give this multiple listens!