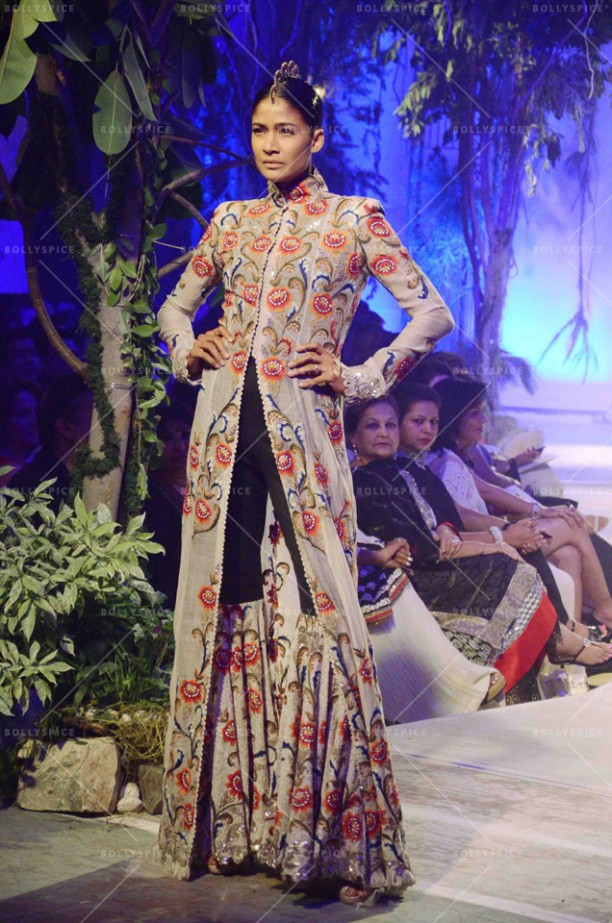 As the international fash pack descends on the Capital this September, London will welcome two celebrated Indian talents in the fields of fashion and jewellery design when STYLEFILE debuts in the city with the presentation of Anamika Khanna and Raj Mahtani: London Exhibition. The two-day event will take place on Friday 12th and Saturday 13th September, 11.00am – 7.00pm amid the fitting grandeur and elegance of The Alexander Room, The Bentley Hotel, 27-33 Harrington Gardens, London SW7 4JX.
The designers will be featuring their latest collections (Fall/ Winter 2014) at the exhibition, which were recently showcased at Indian Couture week and the Vogue Bridal Show. Pricing for pieces will be on par with India, making this an exclusive, pop-up experience not to be missed. Anamika Khanna and Raj Mahtani themselves will be present throughout the exhibition, to interact with stylistas, shoppers and lovers of haute fashion and design alike.
STYLEFILE is the first of its kind, multi-brand exhibition to promote fashion, art and craft exclusively from the creative hotbed of Kolkata and deriving from the crème of Kolkata-based talent. The brainchild of socialites Preeti Goenka (of the Goenka Sa-ra-ga-ma Group) and Sumedha Sarogi, they have partnered with Chhavi Seth-Mediratta to make their grand entry into London and outside of India for the very first time.
Anamika Khanna became a lauded designer after the debut of her international label, Ana-Mika, in 2004. Not only is she the first Indian designer to launch an international label, she was the first to be featured at Paris Fashion Week, along with master of colour, Manish Arora. A fashion pioneer and favourite with the Subcontinent's leading fashion icons and celebrities such as Sonam Kapoor, Anamika creates magic with her figure flattening couture pieces. With her mélange of traditional Indian patterns and western design techniques, married with an insatiable enthusiasm for intricate embroidery, Anamika is a rebellious creative force on the Indian design landscape. Her credentials as a designer rest on the fact that she has a great appreciation of vintage design, each and every one of her collections steeped in historical referencing and vintage nostalgia.
The ancestor of a respected family jewellery house established in 1880 by his great-great-grandfather and then called Satramdas Dhalamal, Raj Mahtani meticulously guided the business into the stratosphere of contemporary jewellery design in 2000 and it soon became a globally recognised design powerhouse. Back in the late 19th and early 20th century, the jewellery house was renowned for designing pieces favoured by the Maharaja's. Today, that hint of regal flare still influences the sumptuous collections, synonymous with the romantic drama of the Mughal epoch. Raj's sheer genius for sourcing the most eye-catching and finely shaped gems, offset by brilliant gold and silver, is as strong as ever, redefining the label for a contemporary audience.
Members of the public wishing to attend should RSVP Chhavi Seth-Mediratta: chhaviseth@yahoo.co.uk