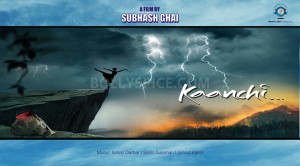 With heavy rush of big movies coming in August, Subhash Ghai has postponed his release date from 15th August to 30th August, 2013.
Subhash Ghai said, "I wanted to release it on 15th Aug because of a patriotic flavor to the love story of Kaanchi. Since there are two big releases on Eid – Shahrukh's Chennai Express and Akshay Kumar's Once Upon a Time in Mumbaai-2 the single screens will be playing them for two weeks plus there are two other releases on 23rd, so I decided for 30th Aug as Kaanchi being a mass as well as class film will need multiplex and single screens both. And I am too happy and excited about the film I m shooting at present"
Subhash Ghai is making Kaanchi with new star cast and veteran actors' Mithun Chakroborthy and Rishi Kapoor after 4 years of gap and is too charged with this film. He further added "Having a new cast has given me a huge responsibility as well as happiness as good as when I was making hero or karma."
It will purely be director's film with his command and conviction… "I know that people are really waiting for a big film from me with wholesome entertainment for every section of audience. Kaanchi has a great story with a message and fun and drama combined and great music to cherish. "I have recorded four songs by Ismail Darbar and Salim Suleman on the lyrics of Irshad Kamil and I can say today that it's going to be big blockbuster music album on the day it will be released. My new heroine has done the fantastic job to take over the first row among stars of today. It's larger than life film and production both and I am waiting for 30th August to show it to my audience".