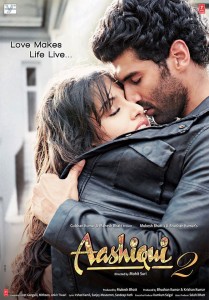 Aashiqui 2
Starring Aditya Roy Kapoor, Shradha Kapoor
Directed by Mohit Suri
Rating: *** ½
It's no coincidence that this surprisingly moving film is inspired by Frank Pierson's 1976 drama A Star Is Born. And I deliberately mention the funky psychedelic 1976 version and not the older 1954 version of the same story. In spirit and in the way the two principal actors perform their parts of two soul-mates and singers torn asunder by their allegiance to the same competitive spirit of showmanship, Aashiqui 2 is robustly reminiscent of the Kris Kristofferson-Barbra Streisand film where he discovers a co-singer who steals his heart and also his career.
Hrishikesh Mukherjee made his lyrical melodious Abhimaan on the same theme. It was easy for Hrishida to portray Jaya Bhaduri as a better artiste than Amitabh Bachchan quite simply because she sang in Lata Mangeshkar's voices. In Aashiqui 2 the two protagonists are pretty much left to their own devices to create that unbearable frisson between two people whose love is trapped in the whirligig of showbiz. For their love to be liberated from the rituals of competitiveness one of the lovers must make a huge sacrifice before the end.
For love to live the lover must die.It's a curious tradeoff and one carried off in this film with an exuberance of emotions.
The premise for the plot presumes love to be selfless all-giving and unconditional. Just to see Shradha Kapoor's eyes melt in mutating emotions of unflinching devotion to her alcoholic star-on-the-skids lover is a vision that makes us believe true love still exists. This petite beauty with eyes that never stay silent gives to her part so much heart, you want to just embrace her and protect her from her self-destructive mentor-turned-tormentor.
Aditya Roy Kapoor as a rock star who is rapidly slipping from the charts gives all of himself to the character. And then some more. In Aditya's persona Rahul becomes a metaphor for all the success in showbiz that goes awry. In pursuit of pleasure derived from the bottle his character becomes a cross between Shah Rukh Khan's Devdas, Ranbir Kapoor's Rockstar and Kris Kirstofferson's John Norman Howard.
Like all the heroes of Mahesh Bhatt's cinema Aditya has to portray a man who frequently creates a scene and embarrases the person he loves the most. This young actor is not afraid to look compromised on screen. A fearless actor, Aditya falters in the higher notes. But then as I said, the singing here is not quite what we heard Lata Mamgeshkar , Mohd Rafi and Kishore Kumar do in Abhimaan. Having said that it must be admitted that the music by Jeet Ganguly, Mithoon and Ankit Tiwari stands by the characters and never lets them down even when the pitch gets really steep. The finely written poetry also helps to furnish the lovers' journey with a feverish and fecund pitch.
Aashiqui 2 is a film with its heart in the right place. There are many moments of pure cliché between the lovers. And these moments, so deeply entrenched in the conventions of our cinema, blossom into fresh statements on modern love .It's a joy to see writer Shagufta Rafiqui and director Mohit Suri ferret out those feel-good places in the script where the protagonists plonk their emotions with a confidence and conviction that reaches out to the audience.
Is that really acting that we see each time Aditya into Shradha's eyes?
If cinema is all about faking human emotions, then I must admit this film does a very comptent job of making us believe that true love still exists in this world.
Man, woman, music, ambitions, dreams and despair…Director Mohit Suri traverses the angst-soaked territory with a sincere and deep understanding of the dynamics that destroy love and trust between couples in the glamorous and competitive profession. Yes, there are some clumsily-written episodes in the love story, for example the character of intrusive struggler who barges into the plot at the start during the opening music concert and again in the climax almost as if he was waiting impatiently in the margins of the screenplay.
What lifts the film beyond the realm of the routine are the jagged edges that the film constructs around the central relationship without wounding the film's fragile core. Full credit to the actors who fill up the screen with a measure voluptuousness allowing the emotions to spill over without creating an excessive drama. Aditya Roy Kapoor is impressively implosive while Shradha Kapoor plays off against him with a steelwilled vulnerability that echoes Jaya Bhaduri in Abhimaan. Another fine performance comes from Shaad Randhawa as Aditya's friend and manager.
Watching this smoothly-oiled drama of disintegrating love I couldn't help remember Rahul Roy and Anu Aggarwal's wooden performance in Aashiqui.
Our cinema has a come a long way, and not always in the right direction. Aashiqui 2 makes us grateful for the movement of the love story away from the standard Romeo & Juliet format into the dark destructive domain of A Star Is Born.
Sometimes love is just not enough.