Starring Rani Mukherjee, Prithviraj &  A Cast Of  Certifiable Lunatics
Directed by Sachin Kundalkar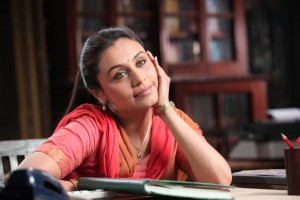 Somewhere towards the 'grind' finale, when you are grinding your teeth in exasperation at the banality of the burlesque, a hideous character named Gagabai is seen slithering dancing and cavorting all over a set that looks like a psychedelic nightmare-scape from Anurag Kashyap's Dev D. This Lady Gaga in Aiyyaa sings, 'Do do do me' to a leery lad who has seen better 'daze'. Demurring to Gaga's do-able proposition lanky lad replies, 'I do with my hand.'
Ahem. At this point the director seems to have completely lost the post. Aiyyaa is a film that thrives on the mood of unmitigated zaniness. For those who like their comedy with a heavy layering of wistful fantasy it's quite an experience.Wacky and funny on the top, the world of the protagonist Meenaxi(Rani Mukherjee) is dark and sombre beneath. It's a tough mood creation marred by the director's stubborn refusal to let the narrative make up its mind whether it wants to do a homage or a spoof to the fantasy-cinema of the 1980s.
So here's the thing. Director Kundalkar who seems to think wackiness is a tremendous cinematic virtue,begins by showing Meenaxi as a middleclass Maharastrian girl constantly fantasizing about being in Madhuri Dixit's and Sridevi's song sequences from Tezaab and Mr India. In case we miss the point there is a Vividh Bharti styled announcement about the source material. But as the narrative groans ahead it gets awed and finally defeated by its own eccentricity. The song sequences sacrifice their spoofiness to let Rani slither in sensuous belly dances and other high-concept gyrations, each of which must have cost more than Meenaxi's fey family's food budget for the whole year.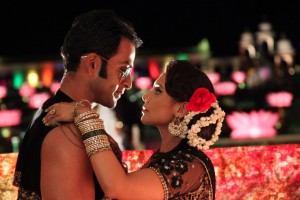 Homage or high-definition item songs,Rani, by jove, has a ball dancing to the spoofy and the sensuous beats of Amit Trivedi's mood-perfect tunes. She embraces her character, makes Meenaxi's contradictions and whims her own to the point that we are almost willing to excuse the film's innate discrepancies and annoying goofiness.
What a year this has been for the female powerhouse performers! First there was Vidya Balan in Kahaani, then Priyanka Chopra in Barfi. Just last week Sridevi exuded an enduring ethereality on English Vinglish. And now Rani simply wows us with her interpretation of the middleclass dreamer's part. She's played the downmarket dreamer before, in Bunty Aur Babli. Rani lets the workingclass wannabe's imagination takes wings to soar eagle-like in the sky that, alas, gets progressively clouded and murky.
Very often Meenaxi's home and life would remind you of Ram Gopal Varma's Rangeela while her rapport with her trying-hard-to-be-understanding fiancée(Subodh Bhave, excellent) harks back to Jaya Bhaduri's Bole re papihara days in Hrishikesh Mukherjee's Guddi. Subodh Bhave's description of his love for the cinema of Farouq Sheikh and Deepti Naval with Jagjit Singh's Tumko dekha to yeh khayaal aaya from the film Saath Saath thrown in for good measure, and with Rani's character trying hard to follow her fiancee's love for nostalgia, are brilliantly tongue-in-cheek.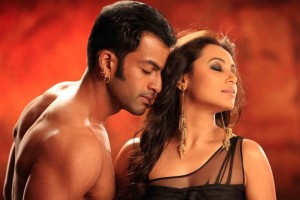 Alas, the tongue gets progressively wedged in the cheek. And finally the film loses any claim to a coherent voice.We are soon looking at characters and situations that belong to a lunatic asylum. Meenaxi's friend Gagabai's overpowering trashiness and the wheelchaired grandmother's excessive exuberance set your teeth on edge. To anyone who thought these over-the-top(and how!) characters would actually appear funny on screen I say, get a 'laugh', guys.
What works, and works beautifully, is the central Rani-Prithviraj romance. Aiyyaa is actually a film about  a girl who longs to escape her garbage-dump existence, falls in love with a man who smells good and stalks the scented silent sinister stranger to a finale that is tragically far from ambrosial or enigmatic.
No Hindi film has explored the sensuous  aspect of smells so effectively. Every time the South Indian brooder(Prithvi Raj, effectively in-mood) passes by Rani inhales as though she had just felt eternity in her nostrils. There are some interestingly composed shots of Rani stalking her scented lover-boy through a crowded palate of  sounds and colours. Also brilliant is Rani's brief attempts to touch her fantasy-man's Tamilian background by taking a crash course in Chennai etiquettes from a cocky Dravidian chaiwalla boy(Pakadi Pandi, superb) and also by gate-crashing into his home to befriend his South Indian mother.
The director messes up a chance to let Rani's inherent exuberance sing and dance across the length and breath of  the film's canvas. He keeps placing the spontaneous actress into ridiculously compromised situations. It is to Rani Mukherjee's credit that she survives all the bumps and bellyaches that this weird yet watchable film serves up. Yes, Rani gets a firm grip on the intriguing flavour of this out-of-the-box comedy. To a large extent she redeems this fatally flawed farce. But honestly you need nerves of steel to withstand those chilling close-ups of Gagabai.
Don't hold your breath. That sweet smell in Rani's nostrils is not fated to be ours, not in this film.