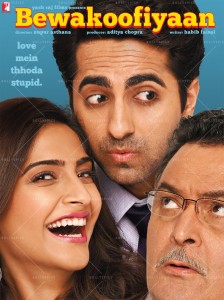 Bewakoofiyaan
Starring Rishi Kapoor, Ayushmann Khurrana, Sonam Kapoor.
Directed by Nupur Asthana
Rating: *** ½(three and a half stars)
Sometimes, love just ain't enough. So there we have two people in love. The pampered but not spoilt bureaucrat's daughter Mayera and her lover beau Mohit whose upward mobility is frozen by an employment meltdown in his airline organization(spicy allusion to the Kingfisher crisis, yes?).
It's Delhi's noveau riche Gurgaon world bathed in cosmetic conceit.Sonam Kapoor and Ayushmann Khurrana blend into this gleaming kingdom's excesses effortlessly. The two of them are so good as a couple, imagining them apart for even a portion of the bitterness that bites into the narrative during the second-half becomes unbearable.
Debutant director Nupur Asthana's is a bright scrambled world of wealth luxury and the yuppy club's unstated desperation to move up the corporate ladder. It is also by its very definition a ridiculously self-important delusional world.
Miraculously this film with its gleaming polished surfaces neither gasps nor laughs at the ignobility of upward mobility.
There is an interestingly crafted fight scene between the film's lead pair where Mayera reminds Mohit that she has not bought a new pair of shoes during the last two months because of his job loss. That she doesn't realize how ridiculous she sounds to Mohit is a measure of the underlining irony that the narrative scrapes out of these characters while portraying the exacerbated materialism of the go-getting generation.
Habib Faisal's writing is smart and amiable crowded with quaint colloquialisms culled from the Capital's youngster's language. The writing also surprises itself by becoming inwardly-drawn and introspective at the most unexpected moments. That the screenplay has got Ayushmann Khurrana to play the cool guy whose perfectly laid-out plans fall apart ,is a stroke of luck for this likeable film.
Khurrana looks like the guy next-door who wouldn't mind pulling a few strings to float higher than the level allotted to him by fate. He brings a suave arrogance to his role and creates a cohesive graph for his character .He is an actor to watch.
Of course it helps Khurrana that he has Rishi Kapoor to play his girlfriend's hawk-like father. Rishi's character of the IAS officer on the verge of retirement(with a companion from his work place who typically, offers his "humble" advice on every matter) is brilliantly written.Rishi's Sehgal is a pompous name-thrower with an inflated sense of self-worth, over-possessive about his only daughter's life and preferences, Rishi's V K Sehgal is a striking image of a man on the verge of erupting into a self-deprecatory laughter, if he only he knew how funny his quirks look from the outside.
Rishi brings to the characters a cornocupia of 'cool'. Seldom in his any other recent film except Do Dooni Chaar has this brilliant actor expressed such pleasure in putting forward his character's point of view.It's no coincidence that film too was written by Faisal.
So many of Rishi Kapoor's scenes with Khurrana stand tall because of the way the two characters meet as adversaries who fortunately love the same girl in different ways. Sonam as the girl torn between an autocratic dad and unreasonable lover is so in-character you wonder whether the role and its fetish for designer labels were written specially for Sonam.
Bewakoofiyan has nothing new to say. And that is its greatest virtue. It is Meet The Parents where the father and the prospective son-in-law's roles are better played than the original. Yes, Kapoor and Khurrana are better than Robert de Niro and Ben Stiller were in the Hollywood film about the father of the bride.
The narrative sparkles with a mischievous elegance. The winking homage to the go-getting glam-set of Delhi works mainly because the three protagonists are so immersed in the goings-on they make us forget that we've seen most of these conflicts over and over again in the past.In terms of the fluency with which the cliché about the love birds and the girl's disapproving dad is tackled , Bewakoofiyaan is a marked improvement on Yashraj production's last two pretentious hammy films Shudh Desi Romance and Gunday.
Ayushmann's performance is oh not so hammy. A pure delight to behold after Ranveer Singh and Arjun Kapoor's over-energized bravado in Gunday.