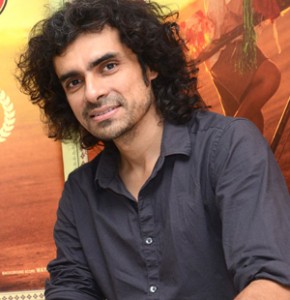 Imtiaz Ali's short film India Tomorrow is so earnest and politically correct it seems like  a propaganda piece for the ruling regime…A Films Division documentary with cuss words. Or a pitch for a debate in the Parliament with some unparliamentary language thrown in to woo the generation that swooned swayed and hallucinated to Rockstar.
In its bid to do some "cool" counter-stereotyping the 5 minute film throws forward an embarrassment of nobility wrapped in consumerist cornucopia. So we meet a prostitute in her play-pen, the bedroom. Luckily Imtiaz Ali has not cast Nargis Fakhri as the prostitute. I don't know who the actress is since her name is not featured in any credit details.
Like all filmy sex workers from Sharmila Tagore in Mausam to Kalki Koechlin in Dev D, this prostitute is spicy, savvy and sharp-tongued. She knows  the share market….umm…in and out, much to the initial disgust and eventual disbelief and admiration of the stock broker (who throughout the interaction remains clothed only in an over-sized vest to cover his modesty, slow clap for the costume designer).
The stockbroker who comes across as comparatively crude, gets lessons in the pitfalls of the share market from the clever sex worker as she rattles off facts and figures from Forbes with the dexterity of a Wall Street junkie. Or considering her line of work Dalaal Street would be more appropriate.
"Tu students(sic.) hai kya?" he wonders admiringly.
"Stop worrying about me. Think about yourself. You've only a few minutes left," she urges brusquely reminding the hyper-ventilating stockbroker of the original purpose of his visit.
The film ends with shots of director Imtiaz Ali taking selfies with what one presumes to be real sex workers. In this way the director ensures his place among filmmakers who care about women's  empowerment.
Slow clap for the Bimal Roy of the psychedelic generation.
A sex worker who wants to be  a stock broker…not bad, Imtiaz Bhai. In an interview Imtiaz enthused, "I deliberately chose a sex worker (as the protagonist)  because very often we feel 'her life is over, poor girls has no scope' but even she can, and very often they do have plans and dreams. So if they can, anyone can."
The problem with cinematic idealism is, it tends to go no further than the camera. How many real-life academics married prostitutes after watching Sunil Dutt and Dharmedra do the same in Sadhana and Sharafat?
Recently in the underrated film Bollywood Diaries directed by K D Satyam we saw a sex worker in Kolkata pouring her heart out to an aspiring filmmaker who runs away with her heart and dreams leaving her poorer than before. This, Mr Ali, is the reality about women struggling to survive at the marginal levels of our society.
Prostitutes who rattle off  sensex figures during sex exist only in the world of fantasy art.
Sure, we want to see a better brighter more women-friendly India. But for that to happen we need to set realistic gaols. Not hallucinate into the camera about sex workers who are  Gordon Gecko in drag.