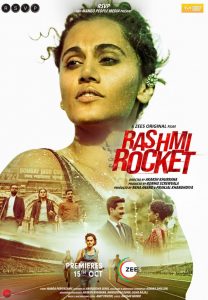 Taapsee soars skywards with this thought-provoking sports drama directed by Akarsh Khurana.
Towards the closing of this cannily crafted athletic sports drama, Taapsee in what's clearly a awards-nomination showreel moment, talks to her unborn child, giving us a classic glimpse into her feminine impulses… a womb with a view, so to speak.
You really can't keep a good woman down. The unsporting sports association in this rocking sports drama tries hard to play spoilsport, garrulously making our spunky heroine Rashmi Veera's sprint to national and international glory from Kutch to Kutch Khaas, a frigging hurdle race.
The smoothly turbulent script(we know exactly when and where the next storm is coming from plays it safe most of the way. See in the credits we find that Taapsee's Haseen Dillruba writer Kannika Dhillon has done some "additional screenplay" – in other words, some damage control.
Given the constraints of a real-life sports drama where the protagonist is at once based on a real character and is an amalgamation of all those female athletes who have been subjected to the humiliating ritual of a 'gender test', Rashmi Rocket does well for itself.
It is an amiable, charming film with no real flashy high points. But the actors ensure we remain invested in Rashmi's rise-fall-rise trope. Abhishek Bannerjee as the out-of-luck lawyer who fights Rashmi's case in front of a female judge(Sipriya Pilgaonkar) who seems straight out of Law & Order, is earnest enough to earn brownie points even if he plays dirty to win. But it's for a good cause.
I wish there was more of Rashmi's romance with the army officer, who is so supportive he gives infidelity a bad name. Priyanshu Painyuli plays the ardent love interest with such fidelity I wished there was more of him in the plot.Rashmi's blow-hot-blow-cold relationship with her outspoken mother(the ever-dependable Surpiya Pathak) is illustrative of the film's intentions: stay in the safe zone and whip up excitement in that zone.The recipe rocks.
Clearly the script is not overly bothered with the supportive cast, not even the skilful Varun Vandola ends up playing the dirty nepotist villain in an underwritten role.
This is again Taapsee's drama, and she embraces it with a confident hug, manly shoulder and all. Her expressions of Rashmi's humiliation and defiance are so faithful as to lift the drama notches above the routine.When it comes to selecting roles, Taapsee is clearly proving to be the Aamir Khan among actresses.
While Rashmi Rocket remains charming and well-intended all the way, it could have easily avoided some of the more blatant pitfalls of masala cinema, like a song-and-dance at a wedding and Rashmi's arch-rival on the field coming out so suddenly in her defence in the courtroom
Such things can only happen in movies. Not that we mind, as long as the product remains as patently true to character as this. Rashmi Rocket is Zee5's face-saving gambit after an endless stream of trash.
3 stars!