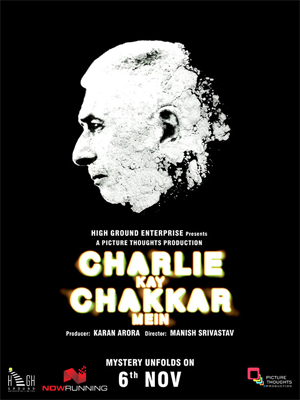 It's a dry week at the movies. What with all eyes set on next week's big release, and we all know what THAT is.
In the meanwhile, debutant director Manish Shrivastav bravely and quietly releases this noire comedy, redeemed by a proclivity to tell a botched-up crime-heist story with conviction, and by a cast of absolutely fabulous actors who know their job and have a knack of getting into character without fuss.
This is a noisily dark film filled with signposts declaring its naturalistic aspirations. The film has a nihilistic spirit cutting through it. Unfortunately the cuts are neither sharp nor graceful. If the truth be told, the pace flounders as director Manish Shrivastava gets self indulgently trippy in telling the story of a group of friends who are caught by a canny cop (Naseeruddin Shah) doing unspeakable acts of cruelty on one another.
For a large part of the terse narration, the plot characters and incidents read like Bejoy Nambiar's Shaitaan…unplugged and burnt-out. Nambiar's telling of a group of wayard youngsters' pilgrimage into crime was done with far more grace and confidence.
Charlie Kay Chakkar Mein (CKCM) tends to trip over its own cleverness. The purposely unpredictable twists and turns in the life of a group of wayward friends is put together with jerky delight. Each episode is unravelled with lipsmacking relish. But films about unsuspecting people getting embroiled with the underworld have been far more persuasively done in Rajkumar Gupta's Aamir and Bejoy Nambiar's Shaitaan.
Charlie gets its fix from the performances. Naseeruddin Shah is wry and riveting even when treading on thin ice as far as the plot's credulity level is concerned. I specially like him in one sequence where a self-righteous junior impresses Naseer with his incorruptibility and Naseer impatiently hushes up the junior. That one encounter says so much about the world that we reluctantly inhabit although it bites us in the ass every moment.
While Naseeruddin Shah is the film's epicenter of credibility, younger lesser known actors pitch in well-rounded performances. Anand Tiwari, a young earnest actor who never lets down his characters, is funny and disturbing as the cautiously ambitious wannabe filmmaker. Manasi Rachch, so persuasive as Alia Bhatt's treacherous friend in Student Of The Year, is equally convincing here as messed-up wannabe actress while Amit Sial so brutally clenched as the middle sibling in last week's Titli is here unrecognizable as a slightly sleazy fortune-seeker.
And yes, there is an actor called Subrat Dutt who shows up in the second half to virtually take over the show as the guy who holds the key to the plot's murky dealings. As he grapples with the deceptive layers of crime and subterfuge, Dutt emerges as the treacherous plot's backbone.
There are other capable actors lurking on tempting nooks and corners of the plot waiting for their characters to grow and their destinies to be developed. Just goes to show, there is so much in Bollywood that needs to change, especially the star system. Films like Pyaar Ka Punchnama 2 and Charlie Kay Chakkar Mein show us the talent waiting at the fringes for the Big Bang.
For all its flourishes of extroverted crime detailing, CKCM is an underdeveloped plot where many characters and their motivations remain unexplained . The 'surprise' ending is imposed on the narrative almost in an obligatory farewell hurrah which says. 'Take this, guys. Because you expect the unexpected.'
Charlie Kay Chakkar Mein is a spiraling thriller whose film-within-film format doesn't quite make it into the league of the big crime tales of our times like Oye Lucky Lucky Oye and Shaitaan. But the build-up of backstabbing betrayals and bathos is interesting. Shot with hand-held cameras this is the jerks' saga that mines an effective crime subtext out of Mumbai's polished surface.