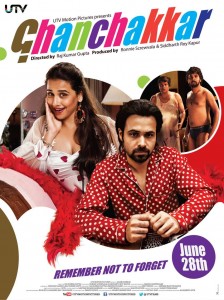 Starring Emraan Hashmi, Vidya Balan, Rajesh Verma, Namit Das
Directed by Rajkumar Gupta
He is a lazy lazy lad. And she is one helluva crazy Punjaban whose kookie cooking drives her sullen husband up the nearest wall. Disgust on the dining-table camouflaged in  tons of  table-salt, Sanju(Emraan Hashmi, pitch-perfect in his spousal indolence) would probably have gone on tolerating his wife's appalling culinary skills matched only by her hideous fashion sense, if only he didn't decide to pull off one last heist that would make him and his inept cook of a wife rich for the rest of their life.
Take-home food, here we come!
Oh, I forgot to tell you …. Hashmi plays an expert lock-picker, the kind of safe-bet who can crack safes faster than we can say 'Saif Ali Khan'.Forgetfulness comes easily in this crazily unpredictable dark comedy about an ordinary Delhi couple's life going unimaginably out-of-control  when they decide to mess around with two self-styled bumbling  baddies who seem to have modelled their crime life on pirated video prints of Guy Ritchie and Quentin Tarantino crime flicks. Really,they suck at their job.
Every character in this out-of-the-box comedy is a bit of an ineffectual  self-important clown. In trying hard to be cool, they end up looking like fools.And they don't even know it!
Ghanchakkar is a domestic comedy that gets progressively dark and sinister. Some  of the film's most riveting moments find our amnesiac hero searching for his own identity and trying to locate the trust factor in his marriage that is threatened by his lack of cogent memory . Director Rajkumar Gupta is the master of  straight-faced whimsy.There are no LOL moments in Ghanchakkar. The humour is the kind that hits you in hindsight.Characters such as Pravin Dabas ('Jo hero jaisa dikhta hai')  keep popping up for no seeming purpose. But then we begin to realize the plot's larger design is to tell us that there is no real larger design in  life. Very often things happen haphazardly and inexplicably  because that's the way life is.
The characters and situations in Ghanchakkar are neither relatable or particularly likeable.You really don't want to run into these people even for fun. It's that quality of unbearable selfcentredness that makes the characters so unique in their painful commonness. Many chunks of Gupta's storytelling seem excessively quirky capturing in languid motions, the vagaries of everyday life without whipping up an over-punctuated drama either through the background score or fancy editing patterns.Setu's camera looks at Mumbai's middleclass with affectionate disdain, not judgemental but certainly not aloof either.
Some ongoing gags, like the Namit Das character's phone-sex and the guy on the local train returning home with vegetables for his wife who is repeatedly intimidated by Namit Das, just don't hold together . That maybe because this is not comic cinema as we know and acknowledge it.
Rajkumar Gupta creates a world high on eccentricity in the uncaring city . If the truth be told, we've never seen anything like this film before. Gupta's third film is wacky whimsical dark scrumptious and though not as lightly humorous as your average comedy, wonderfully innovative in the sparing use of dramatic devices including music. Its sinister thrusts specially towards the end eat ravenously into the comedy. This may not work for those who are comically regaled by  the Gol Maal series  or even the wacky wit of Fukrey. The comedy in Ghanchakkar is entirely reliant on the principal characters' ability to  penetrate and make sense of the squalid world of greed and acquisitiveness that they seem to inhabit so casually.
The film's heist-quotient is substantially sustained and aggrandized by the crackling hissing and snarling chemistry between the bold and fearless Balan and the endearingly restrained and under-the-top Hashmi. Their mutual suspicion of one another's marital integrity is delightfully irreverent and yet disturbingly relevant in today's times when distrust is a dowry gift in a majority of  marriages.
In their delightful love-making sequence Gupta and his astute co-writer Parvez Shiekh turn the politics of the bedroom on its head. Hashmi appears seductively at the bedroom door wearing the night-wear that his wife has brought him…Underwears and condoms are shyly mentioned.What follows is funny and, er, unforgettable.
The incidental characters appear unannounced…. an inquisitive neighbour, an over-friendly real-estate agent, a nosy mother/mother-in-law whom we only hear on the phone, a sinister crimelord who pops out of  nowhere to create an illusion of  a climax, and an end-game on a local train that could have been more sharply rounded off….But then all said and dumped Ghanchakkar is nothing like anything we've encountered in the genre of dark comedy.
Depicting the scary but savagely funny underbelly of the Great Indian Middleclass' consumerist caprices Ghanchakkar gives Vidya Balan another chance after Kahaani and The Dirty Picture to create an unorthodox heroine. You may not think much of her loud attitude to life. But then you have to hand it to Vidya for staying constantly unpredictable in her characterizations. Emraan Hashmi seems to instinctively grasp his forgetful character's obstinacy and anxieties. He brings calm to the breathless proceedings.
Ghanchakkar may not be every moviegoer's cup of tee-hee. The laughs are often so ominous they cloud our comic responses to the characters. For instance in the bank-heist sequence Emraan Hashmi, Rajesh Verma and Namit Das wear Amitabh Bachchan, Dharmendra and Uptal Dutt masks. In the police-identification line-up that follows three men show up in the same star-masks.
"Haan, yehi teenon they," says the excited bank watchman.
Really now! If Jessica had not been killed in Rajkumar Gupta's last film she would have died laughing watching Ghanchakkar. This comedy of arrears, monstrous arrears, is quite simply one of the most unusual comedies in…er, living memory.