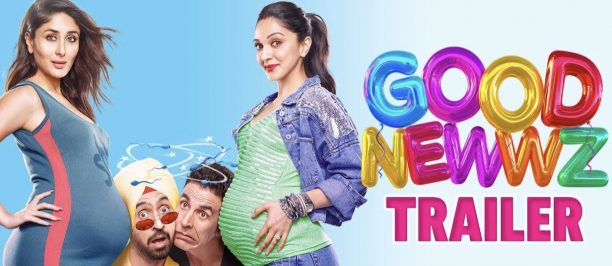 This is film that misspells 'News' in its title, mispronounces 'sperm' and misrepresents everything to do with In Vitro Fertilization (IVF) for the sake of laughter. 'Sperm' ceased to be a dirty word in Hindi cinema after Vicky Donor. Now in Karan Johar's full-on sex comedy Good Newwz the word is given constant currency. Except that it's pronounced 'spam' by both Akshay and Diljit. I do hope there is an inside joke about that mispronunciation.
Laughter, it gets in abundance. The trailer proudly shows off the comic timings of Akshay Kumar (his third release in 2019), Kareena Kapoor Khan (her first attempt at a full-fledged comedy), Kiara Advani (who looks a bit like gatecrasher trying hard to join the party) and specially Diljit Dosanjh who is a hoot as the wannabe 'cool' dad. Whenever Dosanjh is on the screen in the trailer the narrative crackles with pleasure.
This guy can take a joke on himself.
In comparison Akshay comes across as a bit jaded, and trying too hard to be funny. Overwork, perhaps,
The script seems to be an open book in the trailer. Before the trailer plays itself out we know that Diljit's 'spam' has been inadvertently injected into Kareena's womb with hilarious consequences. The jokes are pointedly sexily risqué. In fact the trailer opens with the doctor (Adil Hussain, trying hard to keep a straight face) inquiring about Akshay and Kareena' sex life.
Ha ha. Good Newwz is an interesting attempt to break the glass ceiling that divides the sex comedy and the mainstream comedy. What is wrong with A-list actors talking about sex and sperms? Nothing, except that Hindi cinema has been infuriatingly coy about matters below the waist. That's about to change. Gone are the days when the sex comedy was the prerogative of Dada Kondke and Indra Kumar.
Akshay and Kareena can do it too. And let's not forget Karan Johar has gone through the whole IVF rigmarole. He can afford to joke about it.