That 2012 began with an overwrought hyper-melodramatic brutal and tumultuous remake of Agneepath and ended with Yash Chopra's muted mellow all-heart-no-malice ode to romance Jab Tak Hai Jaan seems indicative of the direction that Bollywood seems headed for. The journey, as we can see, is unpredictable and largely exciting. Looking back, some films of 2012 that fetched hype-star ratings seem bloated and over-eager to please either critics or the masses, but never both. Luckily the films that were truly meritorious did get a place under the swoon.
Each year Bollywood surprises us, and not always in a good way. 2012 seems like a watershed year even by the continuously evolving standards of filmmaking set by envelope-pushing directors who have filtered into filmdom during the past years. 2012 was the year when Tigmanshu Dhulia, Sujoy Ghosh and Shoojit Sircar came into their own with films that took mainstream cinema to new heights. It was also the year when we saw notably gifted directorial talent like Gauri Shinde (English Vinglish), Rajan Khosa (Gattu), Bela Bhansali Sehgal (Shirin Farhad Ki Toh Nikal Padi), Umesh Shukla (Oh My God) and Bedabrata Pain (Chittagong). However the films that stood out were those that didn't try to do so. Here's looking at the year's 10 favourites.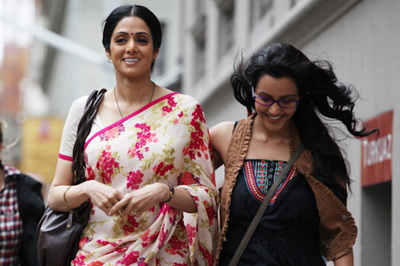 1. English Vinglish: Sridevi…ah! Is she really back??? Pinch me! Was I dreaming? Is this really the work of a first-time director? Gauri Shinde's directorial debut ranks right up there along with Manoj Kumar in Upkar, Gulzar's Khushboo, Sanjay Leela Bhansali in Khamoshi: The Musical, Aparna Sen's 36 Chowringhee Lane and Kalpana Lajmi's Ek Pal among the most accomplished directorial debut of our times. Gauri's USP was the simplicity of the tale. A Marathi housewife struggles to get conversant with the English language, finds her bearings and a sense of self in the bustling not-always-unfriendly anonymity of New York, comes home. The End. The film was exceedingly clever in premise, presentation and packaging and yet at heart a very innocent and artless tale with the nuances emerging not from cinematic ambivalence but the very essence of daily life where we often encounter existential wisdom without recognizing its worth. Sridevi's performance makes her a front-runner for all the Best Actress awards this year. She has only one competition. Priyanka Chopra in Barfi.
2. Barfi!: I have to admit that a second viewing of Barfi! left me a little underwhelmed. Don't get me wrong. I still feel it's a work of absolute mastery created in delicately detailed shades that suggest that life lived on the edge is the only life worth living. However the simple thought and Ranbir Kapoor's simple character seems in hindsight like an annoying attention-seeker. Ranbir's show-offy performance as the deaf-and-mute do-gooder is constantly inviting attention tugging with nagging single-mindedness at our hearts-strings, like a child holding its father's face in his two hands demanding to be heard. It seems baffling why a dignified studious kind of girl that Ileana d'Cruz plays would be so single-mindedly attracted to an exhibitionist like Master Barfi. Not only Ranbir, even Anurag Basu's storytelling seems exasperating in its uncalled-for complexities. Why is the editing pattern so complex? Why the tangled time frame with the narration moving back and forth within minutes? We would have loved your film, Anurag, even without the attempts to get our attention. What elevates the film to a great work of art is Priyanka Chopra's performance as the autistic Jhilmil. The girl wedges her artless personality into our imagination for keeps, so that when her old caretaker (Haradhan Bannerjee) breaks down and weeps like a child when Jhilmil leaves him, we share his grief. Jhilmil is like that only. After a hammy performance in Agneepath early during the year, Priyanka redeemed her reputation. With this one performance Priyanka proves herself leagues ahead of her contemporaries.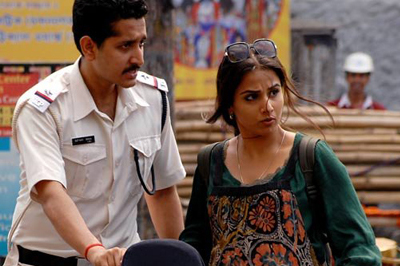 3. Kahaani: Vidya Balan's performance as the "pregnant" (giggle) NRI searching for her husband in the intriguing chaos of Kolkata would've been a given at all the awards this year. If only Sridevi hadn't decided to come back and Priyanka Chopra didn't end up giving her career's best performance this year. Nonetheless, Vidya's ability to get under the skin of her troubled wife's character made Kahaani a yarn to cherish. She had great support from director Sujoy Ghosh who created a sense of foreboding and doom without resorting to excessive sentimentality or drama. Sujoy knows his Kolkata in and out. He explores the city's sweaty anxieties with cool candour. Vidya is certainly in-sync with the film's hushed screams. She emerged far more confidently in this film than the inconsistent though interesting The Dirty Picture last year.
4. Vicky Donor: Sperms never seemed more fertile. Director Shoojit Sircar came into his own with this excellently written wonderfully packaged film about a jobless Delhi dude who turns to crotch-level entrepreneurship for pocket money. The premise worked effectively because of the outstanding writing by Juhi Chaturvedi. She did to Sircar's satire on counter-sterility what writers Manoj Tyagi and Nina Arora did to Madhur Bhandarkar's Page 3. Imbue a sense of mischievous deftness to an unconventional theme. The casting, notably Anu Kapoor took care of the rest. Vicky Donor was of those things. It just happened.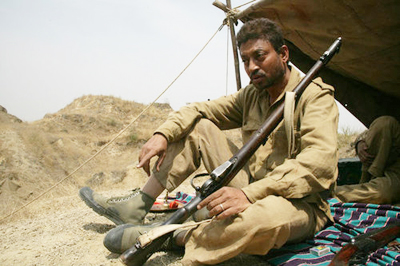 5. Paan Singh Tomar: If Richard Attenborough is the face of Mahatma Gandhi, then thank God, Irrfan has given a face to that unsung hero. A certain Tomar who abandoned sports for banditry. A sure-shot National award for Irrfan Khan as the disgraced athlete who turns into a Bandit King, yes? Who can snatch away Irrfan's moment of glory? Except maybe politics. Irrfan's body language as a sprinter, his expressions of anguish and anger at being treated with scant respect by a society he brought international honour to, were so dead-on as to elicit instant comparisons with the best biographical performances of all times.This one is right up there with Robert Downey Jr's Chaplin. Director Tigmanshu Dhulia earlier films were discernibly disabled by budgetry constraints. Here, he assembled Tomar's story with a finesse which flirted with infinity.
6. Ishaqzaade: Habib Faisal's earlier film Do Dooni Chaar gave us no indication of the simmering anger that boiled over in this volatile violent and rugged take on Shakespeare's Romeo & Juliet. Set in the badlands of Uttar Pradesh, the film took on a sensitive Hindu-Muslim liaison laced with luscious dialogues, provocative incidents and lascivious dances. Angry, energetic and restless debutant Arjun Kapoor's Romeo seemed slightly too edgy to qualify as Shakespearean by any yardstick. He was a Barfi who spoke too much. Parineeti Chopra's UP-bred Juliet was far more convincing and controlled. The film worked for its fearless narration. Home-made guns and indigenous gaalis flew out unchecked. The censor board was for once liberal.We fell in love with this rugged Romeo and feisty Juliet who weren't afraid to die.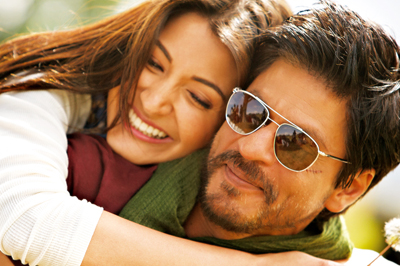 7. Jab Tak Hai Jaan: Sure, it suffered from serious flaws. Two catastrophic road accidents in the hero's life was one too many. Why were so many inconsistencies allowed to foster in a tale that spoke a thousand words through its silences? As lovers in London who discover passion has a longer life than tragedy, Shah Rukh Khan and Katrina Kaif were clasped in an embrace if elegant eloquence. Yash Chopra's romantic flourishes were evident throughout. Somehow the absurd interludes and characters (Sarika's memory-doctor and Neetu Kapoor's long-lost-mother acts were a howl) got swept under the beautifully embroidered carpet of love and romance. There were references scattered all across the comely surface to earlier Yash Chopra films. After Yash Chopra, who can make romance look so inviting? Or make Shah Rukh Khan look so convincing as a suffering soldier.
8. Talaash: Reema Kagti's dazzling enigmatic eerie take on bereavement and faith had too many red herrings to be a fully cohesive whodunit. But when it came to atmospheric details, Kagti's vision blossomed on screen. We saw things that we weren't meant to, felt emotions that were buried too deep for tears, and experienced that thrill which goes beyond elemental fear. The plot was densely populated with troubled characters trying to find their way into a sliver of light, no matter how tentative. The backdrops whether the brothel or the cop-hero's middle class home displayed a flair for authenticity. And we can say this now. Kareena Kapoor was the sexiest ghost we've ever seen.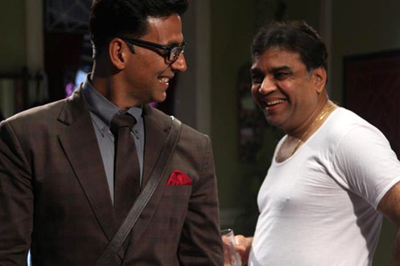 9. Oh My God (OMG): During a year plastered with Akshay Kumar blockbusters this one stood out for sheer gumption. OMG dared to challenge religious dogma. It scoffed at ritualistic merchandising of religion and the fraud that's pulled in the name of God. And by God, the public known to be touchy about religious matters took to the film and its iconoclastic thesis wholeheartedly. Admirably debutant director Umesh Shukla cast the brilliant Paresh Rawal in the central role. Oh yes, Akshay Kumar played God. Don't laugh.
10. Shirin Farhad Ki Toh Nikal Padi/Gangs Of Wasseypur: Farah Khan's debut as leading lady was engaging. The story of two over-the-hill Parsis finding love late in the day made for a quaint, neat and nimble saga littered with lovely passages of awkward courtship between two people who are no longer Romeo & Juliet, or Shirin & Farhad. The film cast real Parsis as, well, Parsis. It correctly caught the sur of a cloistered community's camaraderie during times of courtship. In sharp contrast was Anurag Kashyap's Spaghetti Western Gangs Of Wasseypur set in the crime-infested town of Jharkhand, where Kashyap thinks men shoot people for asking the time of the day. Despite the gross exaggerations, this febrile flamboyant violent happily blood-soaked adaptation of The Godfather worked because of its visceral volatility. Inspite of the trigger-happy brutality of the work, somewhere you felt the film didn't take itself too seriously. Also remarkable for the slew of stupendous acting talent. Not just the tried-and-tested Manoj Bajpai, Jameel Khan, Piyush Mishra but also the virgin-breed Nawazuddin Siddiqui, Richa Chadha, Huma Quereshi, even director Tigmanshu Dhulia lived their roles. Welcome to new-age cinema. Incidentally, why stretch the story into Part 2? Kashyap's former mentor Ram Gopal had tried the same format in Rakht Charitra and failed.
And the major disappointments: Sachin Kundalkar's Aiyaa (aiyyo, what was that????!!!), Kunal Kohli's Teri Meri Kahaani (three lives for Shahid Kapoor and Priyanka Chopra, none worth living), Ram Gopal Varma's Department (the colour khaki never looked murkier), Vishal Mahadkar's Blood Money (a clichéd tale of soul-bartering told with vapid corniness), Sriram Raghavan's Agent Vinod (James Bond on a bad-hair day), Anu Menon's London Paris New York (Aditi Rao called Ali Zafar a co.kteaser, same goes for the film), Ashwini Chowdhary's Jodi Breakers (Madhavan and Bipasha Basu broke up couples and succeeded in demolishing the film), Gautham Menon's Ek Diwana Tha (Prateik wooed Amy Jackson all the way from the screen to their shared pad, as if we cared), Rumi Jaffrey's Gali Gali Chor Hai (political satire gone as wrong as Anna Hazare's andolan), Shrish Kunder's Joker (what a joke…err!).