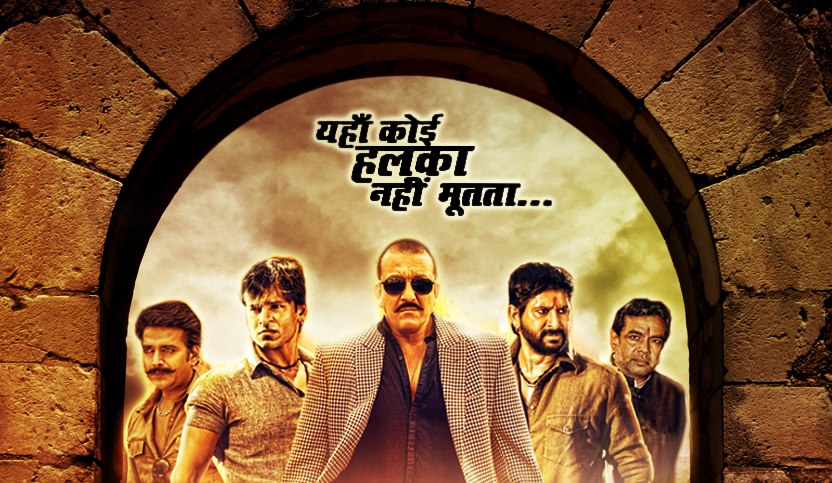 Zilla Ghaziabad
Starring Sanjay Dutt, Vivek Oberoi,Paresh Rawal,Arshad Warsi, Chandrachur Singh,Ravi Kissan, Divya Dutta.
Directed by Anand Kumar
Rating: ** ½
Wasseypur's gangs never had it so good. Seeing the glorious guttural outflow of gore blood bullets and profanities in Zilla Ghaziabad one could safely(?) assume, Wasseypur is safe. So is the other release this week. Abhishek Kapoor's Kai Po Che is as far removed from its Friday competition as flying kites are from speeding bullets.
To be fair one can't compare two films as disparate in intent, purpose tone and treatment as Kai Po Che and Zilla Ghaziabad…except for the fact that somewhere down the line as we approach the crux and the core, both films say the same thing.
If you want to survive in this cut-throat world you have to recognize your own weaknesses and strengths. Not that I see the hurried restless unanchored strangely identity-less and vapidly violent characters of Zilla Ghaziabad ever doing any introspection.
Where is the time to sit and think when everyone is out for a kill? The biggest casualty in all this gore-mongering is a logical pattern of storytelling.The material is edited more to accommodate optimum punches and punchlines than to tell an anchored story. The narration leaves no room for any kind of emotion to take root.
We meet the characters as bloodbthirsty creatures of the underground. And we are most happy to leave them to their internecine intentions. This is the kind of staged drama where lawmakers and lawbreakers behave with equal impunity. Both sides are wedded to anarchy.Screw the emotions. This is an orgy of elemental escapades.
And that's where the fun side of the film unleashes with fatuous fury. The action director is the real conductor of this disorderly orchestra. One violent outburst follows another as two clans of Zilla Ghazibad battle it out to a bloodied end.
Admittedly the action is staged with a whole lot gusto. Tragically the underlining humour of Salman khan's Dabangg is missing here. These scowling, growling, barking and biting characters take themselves and their anarchic hinterland too seriously. They speak in a self-confident drawl in words about bodily functions that Vishal Bhardwaj or Anurag Kashyap's characters might use on very lazy Sunday to shock their neighbours. But make no mistake. The people who inhabit Zilla Ghaziabad mean business.
The business of being mean is perpetrated in a torrent of rapidly-staged drama where aggression is King. The film has a sprawling banquet of actors ,and some very competent ones at that. Sanjay Dutt delivers a punch-filled performance as a cop inured to ambivalence. He strikes swaggering postures that suggest John Wayne never really hung up his hat and boots. Vivek Oberoi, who was gloriously goofy as a bumbling gangster in last week's underrated Jayanta Bhai Ki Luv Story, here displayed a mean streak quite convincingly. So does Arshad Warsi, better known for his comic acts, here slipping into a rugged roguery with relish. If you look around Chandrachur Singh and Paresh Rawal also show up to add muscle to the mayhem.
Every character seems to have fun with his part on this Khichdi Western, a distant doomed dastardly spiced-up teekha cousin of the celebrated 'Spaghetti Western', though whether we as the audience share the characters' sense of enjoyment or not depends entirely on the frame of mind we are in.
If judgemental one could be deeply offended by the unstopped flow of aggression and profanity. However if in a lenient mind-space the bloody battle for indeterminate causes could provide some amount of lowbrow fun.
As expected in this ode to mayhem and machismo, the ladies have little do besides shake a leg and shed a tear. Minissha Lamba shows up somewhere along the way trying hard not to look lost in the stag party.
It's hard not to laugh out loud at these heroes of a subverted hinterland who live and die by the gun.They deserve the death they get.
But what about us?