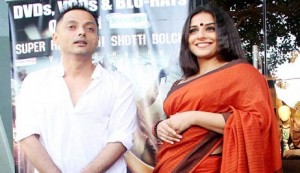 After one of the biggest blockbusters of 2012 that grabbed 150 crores in its first 50 days and receiving overwhelming response from the audience as well as critical appreciation, director Sujoy Ghosh is all ready to team up with Vidya Balan for Kahaani 2.
Sujoy tweeted about writing the script for Kahaani 2 and said that if it is a good script, the film will be as wholeheartedly accepted as Kahaani was. Co-producer Jayantilal Gada said that they are definitely making Kahaani 2 with Vidya and as Kahaani tasted success, so shall its sequel. Sujoy has decided on Vidya being the lead and the backdrop of Kolkata doesn't change too.
Sujoy said that Vidya is the reason he wrote Kahaani, so there is no question of her not being a part of the sequel. "The good thing about working with Vidya is that she never tries to write the script or push her way through, but simply encourages and does her best. She is one person who patiently listens to my grumbling," added the director.
Another story doing the rounds here is that Kahaani(the first part) will be remade in Telegu, Tamil, English and other regional languages to cater to the regional audience but Sujoy may not be a very prominent part of this.
We hope Kahaani 2 turns out to be more successful than Kahaani!