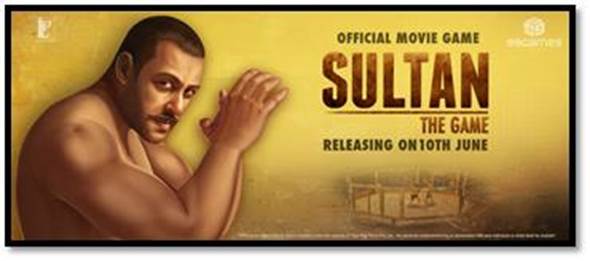 High quality visual effects, sleek controls, action-centric game play, exclusive combat experience… all this and more in Sultan: The Game. Developed by 99Games in collaboration with Yash Raj Films (YRF), Sultan: The Game is available on Google Play now and will shortly be available on other stores.
"The release of Sultan: The Game has further cemented our relationship with Yash Raj Films. We've attempted to do something different this time with Sultan: The Game. We've opened up pre-registrations for the game and have seen a tremendous response so far." said Rohith Bhat, CEO, 99Games. He added, "Sultan: The Game by itself will not disappoint consumers and will put their nimble fingers to test."
Manan Mehta, Vice-President of Marketing and Merchandise at Yash Raj Films, said "At YRF, we are very particular when it comes to our partnerships and firmly believe that film-themed games are not just another avenue to market our film. We treat games as a massive opportunity to engage with cinemagoers as well as widen our audience base. In 99Games, we found a strategic partner who understands this ideology and can bring their expertise to the table. Sultan: The Game is one of the best developed film-themed games to have come out and will allow the audience to step into the shoes of the titular character."
To be a Sultan, all you need to do is download the game on Google Play here: https://play.google.com/store/apps/details?id=com.NNGames.sultan
PLAY THE OFFICIAL GAME FOR THE MUCH AWAITED MOVIE OF 2016, SALMAN KHAN STARRER – SULTAN BY YASH RAJ FILMS PVT.LTD.
"Wrestling is Not a Sport, It's about fighting what lies within" – Sultan
This Eid, join Sultan as he makes his wrestling comeback and rises through the ranks to become the Wrestling Champion – witness his fight for redemption, love and GLORY! Bring out the toughest in you as you Kick, Punch and Defend across 60 levels of in-ring action filled combats. Upgrade your Fighting Skills and Challenge your friends to the Top of the Leaderboards
The Odds are stacked against you – powerful wrestlers from around the world stand between you and the Ultimate Wrestling Championship Gold Medal! Do you have what it takes to emerge as the Sultan?
Game Features:
IMMENSE ACTION
Experience immense action of a pro-wrestler as you don the role of Sultan.
BE THE PRO-WRESTLER
Bring out the toughest in you as you Kick, Punch and Defend across 60 levels of in-ring action filled combats.
BEAT YOUR BUDDIES
Strategise your fights to score the best and get to the top of the Leaderboards.
COOL UPGRADES
Upgrade your fighting skills as you level up with cool upgrades and outdo your Opponents.
TITLE MATCHES
Put your wrestling to the test in the Title Matches and emerge as the ultimate winner
You are the Offence, You are the Defence, You are the Wrestler in this game of Destiny! PLAY NOW and begin your Pro-Wrestling Journey!
"Wrestling is not a sport, it's about fighting what lies within." – Sultan
Sultan is a sports drama which is all about getting up and fighting life inside and outside the ring. It's a journey of a wrestler and his love story.
Starring Salman Khan and Anushka Sharma, produced by Aditya Chopra and written-directed by Ali Abbas Zafar, Sultan releases this Eid 2016.