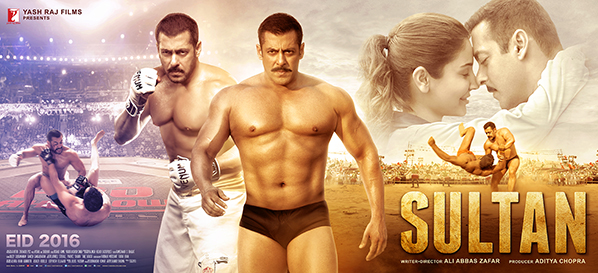 Ali Abbas Zafar's Sultan, starring Salman Khan and Anushka Sharma, is a sports drama about the journey of a wrestler and the fight of his life both in the ring and in life.
"A YRF production, Sultan, set to release on July 6th, is a story of Sultan Ali Khan – a local wrestling champion with the world at his feet as he dreams of representing India at the Olympics.It's a story of Aarfa – a feisty young girl from the same small town as Sultan with her own set of dreams. When the 2 local wrestling legends lock horns, romance blossoms and their dreams and aspirations become intertwined and aligned.However, the path to glory is a rocky one and one must fall several times before one stands victorious – more often than not, this journey can take a lifetime. Sultan is a classic underdog tale about a wrestler's journey, looking for a comeback by defeating all odds staked up against him. But when he has nothing to lose and everything to gain in this fight for his life match… Sultan must literally fight for his life. Sultan believes he's got what it takes… but this time, it's going to take everything he's got."
Bringing the story to life musically is the great composing duo of Vishal-Shekhar, with lyrics by Irshad Kamil. The 9 tracks include an amazing array of vocalists including Shalmali Kholgade, Badshah, Papon, Rahat Fateh Ali Khan, Neha Basin, Mika Singh, Sukhwinder Singh, Shadab Faridi, Nooran Sisters, Vishal Dadlani and Shekhar Ravjiani.
So how does the music play? Read on to find out!
Baby Ko Bass Pasand Hai draws you in with a very syncopated beat and the song just gets better from there. Very rustic in feel and flavor at its base, the song also has a dance groove that well…makes you want to move to the beat. The inflection and flow of the singers that include Vishal Dadlani, Shalmali Kholgade and the rap section from Badshah elevate the track. Each excellent vocal adds an interesting note that mixes together perfectly with the music to make a great song. Give this one a listen and prepare to dance in your room or at your computer… not that I do that.
I was in music joy from the first lovely notes of Jag Ghoomeya. I just love a simple melodic line that transposes to something even more. Of course, then you add in the incredible Rahat Fateh Ali Khan and the joy expands. With a traditional percussion beat as the background that gives it depth, the song also has this lilting musical layer that is just beautiful. That section is my favorite musical part of the song but the track also encompasses a rock guitar riff, that traditional composition with a cool mandolin addition, plus a full on orchestral line that all builds to a create a song full of sound. The brilliance of Rahat Fateh Ali Khan's delivery is perfect and makes the song one of the best on the album. It is music to my ears. (Sorry could not resist) I did not want it to end. One of my favorite Vishal-Shekhar songs. This one you will replay, then again and well, again.
Also featured and it is a feature is Jag Ghoomeya (Female) track. Neha Basin is everything that is good. This version is pared down with more of a sharp percussive layer that somehow is also soft that is the background for her exceptional performance. She is the music! You feel every line as she sings full of longing and heart filled emotion. Another fabulous track that gets even better with each listen.
Salman Khan also released a promotional version of 'Jag Ghoomeya'. It too has the lovely melody that made me love the Rahat Fateh Ali Khan version. Salman Khan sings with great inflection and seems to really feel the lyrics and music. I will leave this up to you as to whether you want to add it to your playlists.
440 Volt is very rock in essence that also has rustic influences and musical lines that add a cool layer. Hearing Mika Singh singing with a mixture of traditional, rock, and softer flavors is just to good. This is one of my favorite performances from the singer. Vishal-Shekhar are masters at combining many different musical styles and making them work. This song is a great listen. I can't wait to see it play on screen to like it even more.
The Title Song of Sultan honestly surprised me, especially knowing the story and where it is set. Vishal-Shekhar go full on hard rock with a wailing guitar and a killer drum line and I loved it. I was rocking out from the first lick and the song just kept on killing it until the last note. It is wicked rock JAM! Both Sukhwinder Singh and Shadab Faridi hit hard with their vocals and make the song even better, they rocked! Shout out to the musicians, especially that drummer! Turn this one up to 11!
Sachi Muchi begins with, to my ear, a bit of a cacophony, but then it calms down to more of a folk tinge (in the American sense) with a hint of country western musical twang. The music of 'Sachi Muchi' is not my cup of tea; it grates a bit and makes me want to turn it off. However, Mohit Chauhan and Harshdeep Kaur save the song. Their energy and delivery create a better sound. It does have some fun stanzas, which again added to the listen ability of the song. I am very intrigued into what will be going on onscreen because I cannot imagine. This song may be someone's jam – it is just not mine.
Papon is one of my favorite singers and once again he makes me smile in Bulleya. In the first section, Vishal-Shekhar bring the instrumental line down in tempo and mood – it is so lovely. The music builds to a more complex and faster track, which I liked, but I preferred the more simple beginning. The mix of the classic runs by Papon backed up by the wail of the guitar were a highlight. The music shows Vishal-Shekhar's ability to mix varied musical styles, but it does not work as well as in some of the other tracks on the OST. It is Papon that shines with his emotional delivery and wonderful performance. Overall it is good but again I think I will wait to see it in the film's world.
Vishal Dadlani with a lamenting tone begins Tuk Tuk and though the bird noises and songs are a bit confusing – he is wonderful. I could not wait to hear how the track would develop but I was disappointed. A very interesting composition that has an almost new age feel to the music mixed with an Indian flavor at the start, the track then becomes something completely different. The song changes up to more of a modern beat with a rap section. Plus there is a dance mix there as well and then full on traditional Indian beats. I have to be honest, though I love both Vishal Dadlani and the Nooran Sisters (who are incredible with great vocals with a very sharp, spicy inflection especially on Tuk Tuk lyrics), I really wanted to turn this off. It was just a hot mess mix of to many styles. I would skip it if I were you.
Finally we have Rise of Sultan, which I imagine is an anthem for Sultan. The music is brilliant full of a dynamic beat that drives the track; the song also encompasses rock, traditional percussion, orchestral sections all mixed together masterfully. It is a perfect situational track. I can see this either as Sultan trains for his comeback or the background as he prepares for his fight. I wanted to stand up, join in and cheer just listening to it. One for the big screen!
I was not sure what to expect from the OST of Sultan and I have to say the diverse music for this film surprised me – in a good way. With some really cool compositions, a mixture of styles and flavors, some incredible musicians and outstanding singers, Sultan's music plays! There were a few misses but overall Vishal-Shekhar created a great OST with many songs ('Jag Ghoomeya' and the 'Title Track' are two particular favorites) to be added to your playlists!