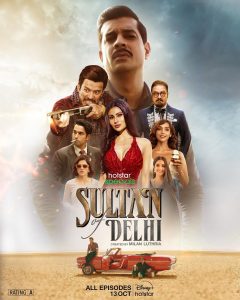 Sultan Of Delhi (Disney+Hotstar; 9 Episodes)
Starring Tahir Raj Bhasin, Mouni Roy, Anjum Sharma, Vinay Pathak, Anupriya Goenka, Nishant Dahiya, Mehreen Pirzada , Harleen Sethi
Directed by Milan Luthria, Suparn Verma
Once upon a time, Milan Luthria directed a film about gangsters called Once Upon A Time In Mumbaai. Not that it was any great shakes. But compared to Luthria's new homage to gangsterism, it was a masterpiece.
The new monsterpiece stretching into nine episodes should have never been made. It is hideously bad in plotting and woefully inadequate in execution. The sets are tacky: a refugee camp in the opening episode looks like a college canteen.
Dull and cheesy, it establishes an immediate yawn sumbandh with the audience, provided there is an audience for these tales glorifying gangsters and sociopaths who should ideally be placed in the trashcan of anonymity.
Just weeks ago we had the sultans of sleaziness spreading themselves grimly all over a moribund Mumbai in the 1970s in Amazon's Bambai Meri Jaan. Now it is this frankly-unbearable series with actors trying to look like they are criminals in Delhi in the 1960s, failing miserably in this challenging endeavour.
Tahir Raj Bhasin playing Arjun a Partition refugee (yes, there are those Gadar type train massacre refugee-camp distress scenes to give the endless series some badly-needed heft) who showed some spark early in his career. Bhasin wears a smug bored look throughout as if he had signed on for this only for the zeroes on the cheque.
He is joined by a swaggering sidekick played by Anjum Sharma who calls himself Bangali.The two indulge in massive gun shootouts and when all fails Arjun strips to his birthday suit in front of a rival gang. This is known as surrendering all of your weapons to your enemy.
Marginally more impressive than Arjun and Bangali is the anti-hero, a wealthy brat Rajinder (Nishant Dahiya) who is very very evil . But so are Arjun and Bengali. Serials such as this make a not-so-fine distinction between hero-bad and villain-bad. Villain-bad Rajinder has the hots for his stepmother , played by Anupriya Goenka (desperately seeking a change of image) who is more vampish than Bindu and Bela Bose from the past who had a blast. I hope Ms Goenka had fun playing the bitch. There is no fun in watching her.
Somewhere in the midst of the mindless violence and sloppy sex scenes, Mouni Roy sizzles in a club gyrating to a song that goes Tra la la. The giddy limit, so to speak.
Having braved this ordeal I have a request for all the Indiana Joneses of the OTT platform: please stop making heroes of gangsters. We have many many bona fide heroes in our past and present to celebrate.