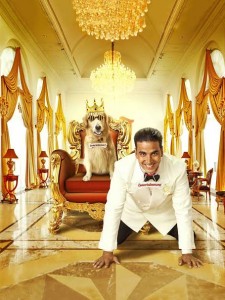 Imagine if the King of Comedy, Akshay Kumar is matched against the ultimate bad guys of Bollywood, Sonu Sood and Prakash Raj. What follows is the deadliest comedy ever – It's Entertainment. Perfectly supporting the belly-aching comedy moments is an ensemble cast featuring Mithun Chakraborty, Johnny Lever and Krushna and the sexy love interest beautifully placed by Tamannaah Bhatia.
This comedy bonanza is helmed by sought after writer-duo-turned-filmmakers, Farhad-Sajid. The genius pair created a record of sorts when, within a span of 18 months, they were credited with five, back to back smash hits that crossed the 100 crore mark, having previously penned the scripts for screen gems such as Bol Bachchan, Housefull 2, Ready, Golmaal Returns and Golmaal 3. To add to this laughter riot is a breezy soundtrack of sing-aloud summer anthems courtesy of Sachin Jigar including a track rendered by the melodious Atif Aslam.
Synopsis:
Suppose you discover that your father is not really your father; that your actual father is multi-billionaire Pannalal Johri; and that you are his only heir. That's exactly what happens to our hero, Akhil Lokhande (Akshay Kumar), who has been working five jobs a day just to keep his fake father (Darshan Jariwala) who has been faking illness in hospital. However, overnight Akhil's fortunes change.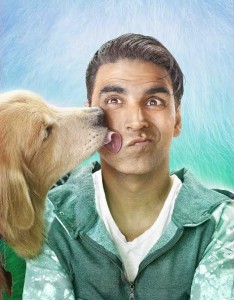 He's secured a spot in girlfriend Saakshi's (Tamannaah) heart and now her home too, presided over by her penny-pinching father (played by Mithun Chakraborty). But on discovering his lineage, an overjoyed Akhil travels to Bangkok to claim his rightful place as the only son and heir of Pannalal Johri. However, his joy is short lived as he discovers that his father is dead. Worse still, Pannalal's loyal family lawyer, Abdulla (Johnny Lever), informs him that his father has willed his entire fortune to his dog – Entertainment!
In order to inherit his father's estate, Akhil and his best friend Jugnu (Krushna) decide to get rid of the pesky canine. Meanwhile, distant relatives of Pannalal, Karan (Prakash Raj) and Arjun (Sonu Sood), decide to get rid of Akhil, to land the fortune themselves. What ensues is a deadly but hilarious game as Akhil and Jugnu plot ever-ingenious ways to kill off Entertainment, while Karan-Arjun hatch nefarious plans to do away with Akhil – a dog-eat-dog situation if ever there was one. In the midst of this murderous mayhem is the loveable, loyal and intelligent Entertainment. Will underdog Akhil have the last laugh, will and testament? Will Karan-Arjun land in the doghouse? Or will Entertainment prove that he's Top Dog and enjoy the last bark?
It's Entertainment all the way, from 8th August in cinemas, presented by Tips Industries Ltd and distributed internationally by B4U.