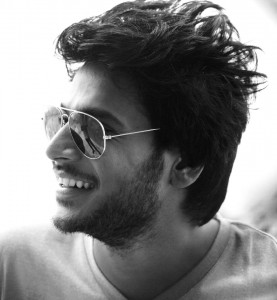 Before you start listing the names of the ladies who could have possibly put our Sundeep in this position let us clarify that the credit to the emotion goes solely to the love anthem of the season, 'Pani Da Rang'.
The Shor guy who seems to have gone off the radar after his dhamaakedaar debut is definitely not missing a beat as far as Hindi cinema is concerned. Although busy with multiple Telugu projects, Sundeep Kishan is one actor whose love for cinema ensures that he's all too updated with all that is currently running at the cinemas.
Lately it's been his love for John Abraham's home production Vicky Donor. The actor seems to be floored by the film and the music alike. "I love the fact the film didn't take itself too seriously yet forced everyone around it to take it seriously. It also made a star out of a newcomer overnight, that too in a solo hero script. Quite a feat! Truly appreciate that," he said in an exclusive chitchat with Bollyspice.
"As for my love for the song, well it reminds me of exactly what I like being reminded of…," he says rather cryptically. Of course curiosity got the better of me and I dared to ask what that "what" is but all I got in reply was an even more cryptic answer, "its for me to know, and you to guess."
Unlike many other actors who claim to not watch films as much or have time for it, Sundeep seems to have time to check out everything happening around him. Ask him how he manages to be so updated despite a hectic schedule and he quickly replies, "well at the end of the day I'm just a simple boy who loves cinema be it working on it or watching it."
So yes he's a love struck puppy, all too in love with cinema!