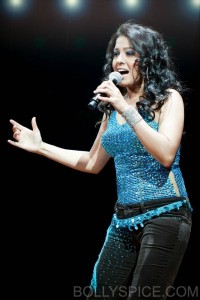 After the sell-out success of the Celebrating 100 Years of Bollywood Tour with Shreya Ghoshal in April/May, it's now the turn of the Diva of Bollywood – SUNIDHI CHAUHAN.
Ask any Bollywood Music fan, to name their favourite singer currently, and it won't be long before the name of SUNIDHI CHAUHAN enters the conversation. SUNIDHI CHAUHAN has evolved into perhaps one of the most iconic and popular vocalists on the live circuit and Bollywood scene. Having consistently been associated with hit songs for over 15 years, it's no surprise that SUNIDHI CHAUHAN has amassed a huge fan following.
For most child protégées fame is a very difficult thing to handle. But SUNIDHI CHAUHAN has handled it very gracefully. She began to sing at the age of four and was discovered by a local TV anchor. She shot into prominence through winning a talent hunt show, in which she sang the most difficult Ragas in an off-hand way. She further honed her skills by training under Kalyanji (one half of the Kalyanji-Anandji music director duo) and was the lead singer in his Little Wonders troupe.
Her big break came with the popular song 'Ruki Ruki Thi Zindagi' from the film 'Mast'. SUNIDHI CHAUHAN broke through the clutter with her bold, husky voice and has now gone onto establish herself as one of the most powerful singers in Bollywood. Internationally, she has collaborated with Enrique Iglesias, on a track called 'Heartbeat' which was featured in his album 'Euphoria'.
A live performer par excellence, she's often touted as the "Queen of Item Numbers", with mass favorites like 'Beedi' and 'Sheila Ki Jawani' to her credit. She has showcased her musical variations by making the masses fall in love with the romantically intense 'Ishq Sufiyaana' and 'Be Intehaan'. SUNIDHI CHAUHAN'S effervescence and dynamism has stirred all music fans and today she is rightly known as the modern-day Asha Bhosle.
The forthcoming U.K. Tour 2013 coincides with 100 Years of Bollywood and this landmark will be celebrated via a special tribute to the legends by SUNIDHI CHAUHAN. The tour will culminate with SUNIDHI CHAUHAN'S debut at the prestigious Royal Albert Hall on Friday 27th September 2013.
Stay tuned we will have an interview with the gorgeous singer coming up soon!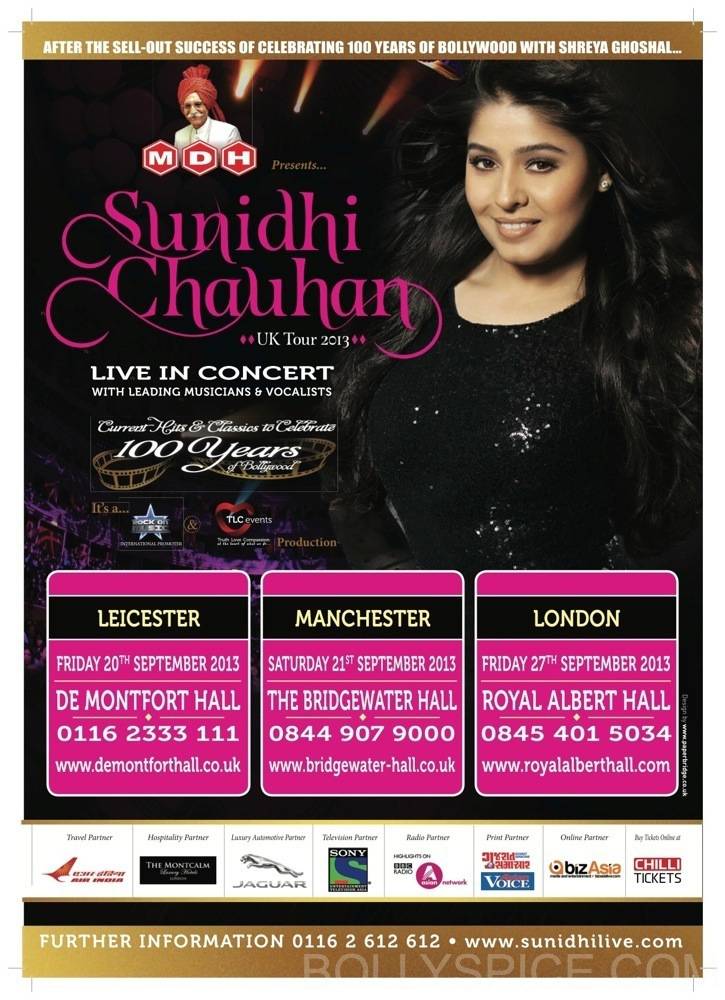 TOUR DATES
Friday 20th September 2013
De Montfort Hall, Leicester
http://www.demontforthall.co.uk/events/events.php/2013/1102/sunidhi-chauhan/
Saturday 21st September 2013
The Bridgewater Hall, Manchester
https://tickets.bridgewater-hall.co.uk/single/eventDetail.aspx?p=23514
Friday 27th September 2013
Royal Albert Hall, London
http://www.royalalberthall.com/tickets/sunidhi-chauhan/default.aspx