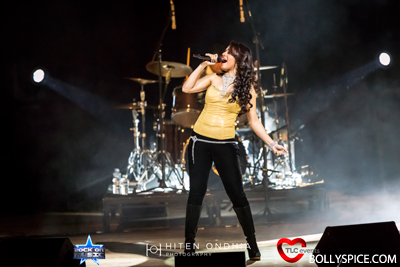 When you think of Bollywood music, we bet one of the first names that comes to mind is Sunidhi Chauhan. From her spicy item numbers to her melodious ballads, Sunidhi has been the voice for the biggest stars and has sung some of the best songs in Hindi films. The songstress is currently on tour in the UK and after two hugely successful shows, she is just about to make her final appearance at the prestigious Royal Albert Hall on September 27th. We caught up with the singer between rehearsals and had a wonderful conversation about music and her concert that she says will be full of music, masti, entertainment and is not to be missed!
You have already done 2 concerts in the UK, what did you love about those shows?
The love that the audience showered on me. They are music lovers. You know, sometimes you are just in a mood to listen to fast paced songs, and then you start to sing slow numbers and they get bored of you, but no, here, at both the places, I had the audience for both kinds of songs. It was amazing how they responded. How they sang along. (You can hear the smile in her voice) So far it has been great. Then next is London's Royal Albert Hall and it is only going to be better I believe. I feel it.
You will be performing at the prestigious Royal Albert Hall, how did it feel to first walk on that stage?
It was awesome! Doing a solo performance is always fun. You have more time; the interaction with the crowd is better. You get to sing the songs you might not get to sing in normal shows. You can show your colours and all that you are capable of. I think that is what is wonderful about doing a solo show.
What do you love about performing live?
The freedom! I know it is the same songs but each time you sing them on stage they sound different because you have different energy on stage. Then the crowd is with you and the energy only goes higher and higher. It is a very give and take thing on stage. A lot of impromptu things happen and I think that is wonderful. I think that is the best thing about singing live. If you are singing on a track or you are lip-synching to a song you are restricted and your performance gets restricted. But live, you are free to fly; you are free to move here and there. You are free and I think that is great!
What can audiences expect from your concert?
Lots of good music, beautiful romantic songs, masti, dance, entertainment, entertainment, entertainment! (Laughs)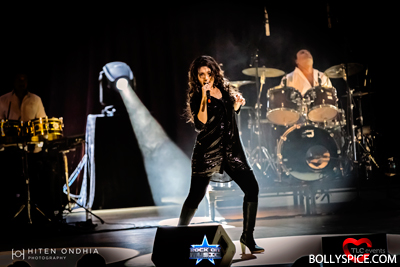 Which song do enjoy performing live the most – Do you have a favorite?
All the songs! I mean it when I say that! Each song has its own unique quality and I enjoy every second of it when I am on stage. I think that is what people can see because that is how I feel. I am really glad that conveys across to the audience.
Do you get nervous before concerts?
I get excited and there is this anxiety that I feel. I just can't wait to get on stage when I am ready! If I am not ready with the makeup and hair and costumes I am fine, but once I am ready I HAVE to get on stage! It's like nothing can stop me. It is a beautiful thing!
It certainly seems that Hindi music is much more in the world now.
Yes, Hindi music is getting global. It has reached to a lot of people in the world but now it is really getting global in other ways too. A lot of international artists want to collaborate with the Indian artists. I think it is spreading even more. It is only good because our music is very rich; we come from a very good classical background. In our soft melodies to our fast paced songs you hear a bit of that and I think that is why people like it all over the world. They like the sound of it. They love our instruments. I think it is a beautiful thing that it is getting global.
One of the things I love about your voice is your range of not only doing the amazing item numbers but also the lovely ballads and everything in between. What do you think makes your vocals so special?
It is the listeners who make me feel special and make my vocals so special. Really. This is not a job for me. I am passionate about my music whether I sing a lohri or a romantic song or a Beedi or a Sheila, it is always with all my heart. I give my 100% in them. I understand the lyrics properly and then sing it so it doesn't sound just by the way. I pay attention to it. It comes naturally to me.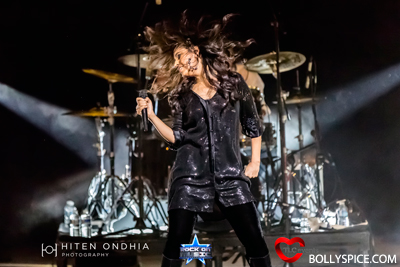 What do you think of Hindi film music today?
It is good. Some of it is not so good, but that is okay, you always have good and bad. I have seen a lot of change in the music industry. I have been in the industry for the past 19 years and I have sung almost every kind of song. I have been a part of very big films and the small films as well. The music keeps changing but I like the change, because change is good. A lot of electronic music is happening right now. Every soft romantic song is also remixed with the fast beats. People don't just listen to the piano and voice any more, they want the trance thing going on in the back even if it is a ballad song. That is a little sad, but that's okay. The times will change again as we get bored of the repetition. It is a circle and we keep coming back. I am just going with the flow. I pick up what I like and I leave what I don't like.
Finally, do you have a special message for your fans?
Love, love, love! That is my message to my fans! You have to come for this show! You must because it is going to be a rocking ride! I can't wait to sing all those beautiful songs, there will be a lot of masti happening, a lot of ballads happening, some old songs because we are celebrating 100 years of cinema. One of the classic songs I will sing is from the movie Padosan, 'Kehna Hai Aaj Tumse Pehli baar'. This is my favorite from the film. I think it is the most romantic song ever. We will have a lot of fun! This will be a night, which you won't forget.
Stay tuned we will have a full report of the concert!
To find out more and to get tickets check out http://www.royalalberthall.com/tickets/sunidhi-chauhan/default.aspx