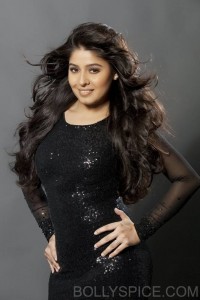 The fabulous award-winning singer Sunidhi Chauhan is getting ready for her debut concert at the prestigious Royal Albert Hall in London on September 27th. Of course, one of the most respected and loved singers in the Hindi film industry you have heard her brilliant vocals on some of the biggest hits and best songs in Hindi film music including favorites like 'Beedi' and 'Sheila Ki Jawani' as well as the romantic 'Ishq Sufiyaana' and 'Be Intehaan', to name just a few. On the third stop of her UK tour, the singer will be thrilling audiences singing some of her best hits live at the renowned Royal Albert Hall.
The singer tells us exclusively she is thrilled to be performing at the famed venue, "I am so excited. I feel very honoured actually and privileged to perform at such a prestigious venue. It's going to be a prestigious moment for me because a lot of people crave to perform at the Royal Albert Hall and I finally have a chance to do a solo performance there. I can't thank the UK people enough for making it happen."
Not only is she excited to perform there but also she is elated to perform for her fans in the UK. "I can't wait to see my audience there and can't wait to perform on September 27."
Adding, "When I think about the show, I think about all the slow numbers, I think about the dance numbers, I think about people singing along. I just imagine all these things and get excited."
The U.K. Tour 2013 coincides with 100 Years of Bollywood and Sunidhi Chauhan will celebrate this landmark with a special tribute to the legends of Bollywood.
To find out more about the concert at The Royal Albert Hall on Friday 27th September 2013 click here
http://www.royalalberthall.com/tickets/sunidhi-chauhan/default.aspx