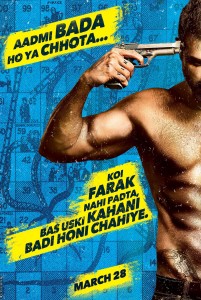 In the industry for over three decades and a veteran of close to 100 films, Sunny Deol has at times been tagged as moody by the makers. This is what the team of 'Dishkiyaoon' too feared when the actor was roped in for an all important part of 'Lakwa' in the film. As it turned out though, all fears were unfounded once the actor was required to be on the sets.
Says first time director Sanamjit Talwar, "Yes, I had heard that he is moody and that he comes on sets based on how he feels on a particular day. However I didn't see any of that on my film. For a 12 hours grueling shoot of 7 AM in the morning till 7 PM in the evening, he would be on the sets at 6:30 AM itself."
It is a known fact that before Sunny Deol, it was Sanjay Dutt who was roped in as 'Lakwa' for 'Dishkiyaoon'. While the film is a comeback vehicle for Harman Baweja, the part of the much older character is quite pivotal as well. The first sign of graciousness that came from Sunny was when he readily agreed to step into the part even though he was busy with films like 'Yamla Pagla Deewana 2' and 'Singh Saab The Great'. That saved producer Shilpa Shetty some agony as the unfortunate turn of events in Sanjay Dutt's life had resulted in 'Dishkiyaoon' been stuck for over six months.
Still, even when Sunny Deol was on board, Sanamjit wondered how it would be for the actor to work with a rank newcomer like him.
"After Sanjay Dutt, we had to think of a new actor who was big and had dates. With Sunny Deol coming in, I know the kind of weight he has brought to the film," says the 35 year old director, "He has been a great pillar of support right through the making of the film. All this while I had heard that once Sunny develops a liniking for you, he is all yours. I experienced it first hand with 'Dishkiyaoon'.