Sunny Deol is back with his most epic role as the action hero with Ghayal Once Again. Fans can watch him when the official trailer for the movie releases on December 17th 2015.
The character portrayed by Sunny has been one of his most memorable roles ever. He is set to create the same magical experience for his fans in Ghayal Once Again, which is also the first action film of 2016. Sunny Deol will be seen doing smashing real time action choreographed by 2nd Unit Director – Dan Bradley, who has recently worked on Mission: Impossible – Ghost Protocol, Quantum of Solace, Superman Returns and the Bourne series.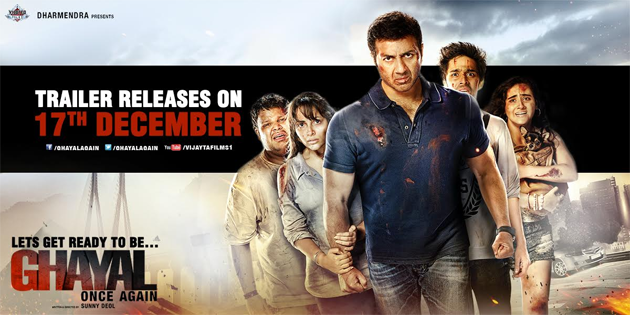 This trailer of Ghayal Once Again will do exactly that – make you ghayal again! This is what all fans are waiting for!
Ghayal Once Again is written and directed by Sunny Deol and produced by Dharmendra. The film also stars Soha Ali Khan and Om Puri. It is scheduled to release on 15 January, 2016.