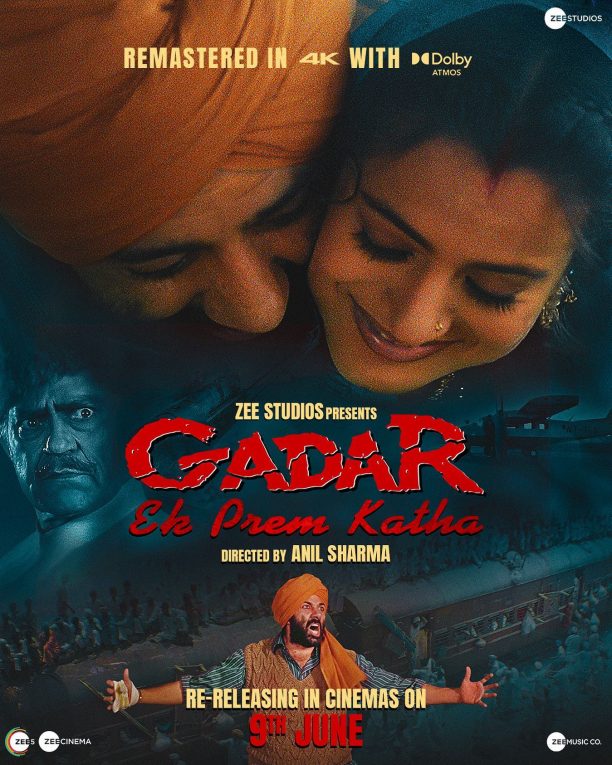 When Anil Sharma's Gadar: Ek Prem Katha was released 22 years ago on the same day as Ashutosh Gowariker's Lagaan, it was dismissed even before Day 1 as the less appealing film. Lagaan was far more sophisticated and it had Aamir Khan in the lead.
But Gadar with Sunny Deol at his seething summit, went on to become a bigger success than Lagaan in spite of all odds.
22 years later as it comes to us with enhanced sound and visual quality it is not difficult to see why Gadar scored over Lagaan. It is a persuasively dramatic film filled with sound and fury signifying many deeprooted links between the cinema of nationalism and the excitable public.
Gadar: Ek Prem Katha is a mammoth pre-Partition melodrama where Sunny Deol sets off across the border to bring his wife Ameesha Patel back from Pakistan. It is actually inspired by a 1999 superhit Punjabi film Shaheed-e-Mohabbat Boota Singh where singer-actor Gurdaas Maan trudges actors the border to get his wife Divya Dutt back. The film broke all records in Punjab. Anil Sharma tells the same story in Gadar with some cosmetic changes.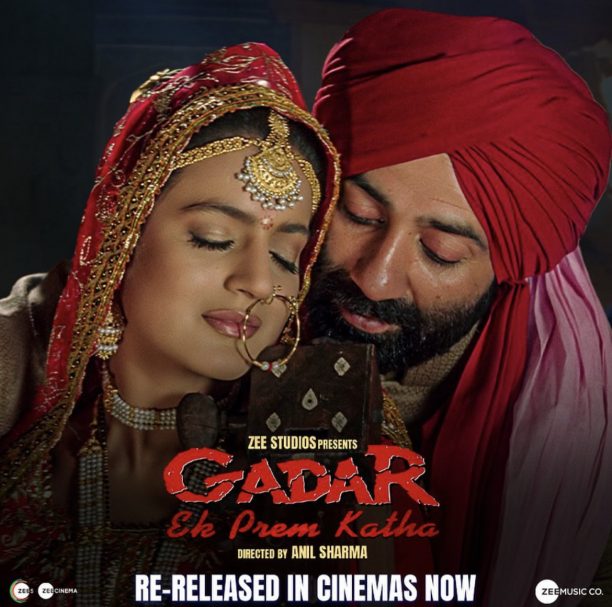 Was Ameesha Patel the first choice to play Sakeena, Tara Singh's estranged better-half? According to a source Anil Sharma was in extended talks with Kajol for Sakeena. Ameesha told me she had the privilege of auditioning for both Gadar and Lagaan. "I had auditioned for Lagaan. That's where I met Aamir for the first time.He was a superstar.I was a nobody. Yet, he treated me gently and affectionately. He put me at ease completely.Then I went to New Zealand to shoot for Kaho Na… Pyar Hai. There, I got to know that Lagaan's director Ashutosh Gowariker had rejected me because, according to him, my eyes looked too intelligent and educated to play the village belle. Ironically, I was selected for Gadar for the same reasons that I was rejected for Lagaan. They wanted someone who looked intelligent and educated.Lagaan and Gadar opened on the same day. And they both went on to make history.I was destined to make history of another kind with Aamir when we did Mangal Pandey. The offer didn't come from the producer or director, but straight from Aamir."
Sunny Deol was the first and last choice for the Sikh husband and father breaking borders to get his family back. He admitted to me that Gadar had become the signature tune of his career. "I don't know if , as you say, it is the best film of my career. But it is surely the most popular. Wherever I go Gadar is bound to come up sooner or later. Did I expect it to be so big? We had all worked really hard on this film."
Gadar raked in more than Rs 200 crores during its first run. It continues to be one of the top money-spinners of all times,leaving its Friday rival Lagaan behind in terms of boxoffice success. Lagaan did get more critical acclaim. But Gadar was the winner at the box-office in 2001. It now seems more relevant than ever, and threatens to become a box-office hit all over again.