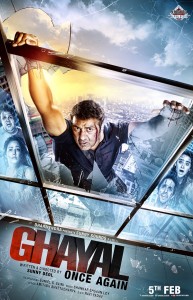 One of the most anticipated sequels of 2016, Ghayal Once Again has been the talk of the town with its emotional and action packed trailer! Well, movie connoisseurs have to wait just a tad bit longer as Sunny Deol will now be releasing 'Ghayal Once Again' on 5th February 2016 as he has joined hands with one of India's biggest studios for the film.
The release date has been pushed from January to 5th February as the studio and Sunny's team require an extensive period to efficient promote and distribute 'Ghayal Once Again', given the scale and audience expectations of the ambitious sequel.
Dharmendra presents, written and directed by Sunny Deol, Ghayal Once Again stars Sunny Deol and 4 young kids – Rishabh Arora, Shivam Patil, Daina Khan and Anchal Munjal in lead roles. The movie releases on 5th February 2016.