Fans of Bollywood diva Rekha, who are eagerly awaiting her comeback to the silver screen with Indra Kumar's Super Nani, will be surely pleased to read this piece of news.
The first look poster of the film, which also stars Sharman Joshi, Shweta Kumar, Randhir Kapoor, Anupam Kher and others, was launched today. The poster shows a smiling Sharman holding up a mirror to his grandmother Rekha, who though disheveled due to kitchen duties, sees a beautiful woman in the reflection, hinting at the story plot.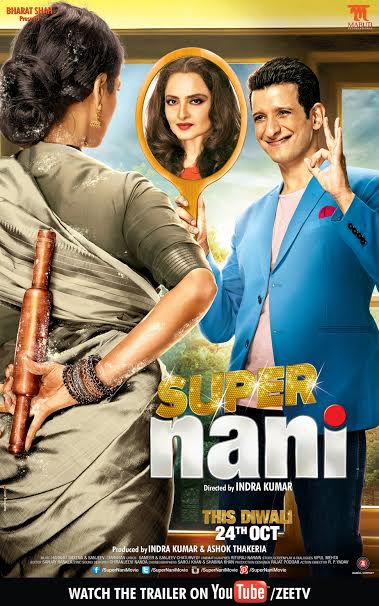 The family entertainer by Indra Kumar and Ashok Thakeria revolves around Bharti Bhatia (Rekha), a grandmother, who devotes her life for her family members but is always taken for granted by them. However, the situation changes when her US returned grandson (played by Sharman Joshi) decides that something drastic needs to be done to teach the family members a lesson and encourages his grandmother to take charge of her life.
How her transformation and career as a successful model changes the way her family looks at her forms the rest of the plot. The trailer of the film, which was unveiled a day back,  is full of tender moments as well as rib-tickling humour and drama, which makes the film a complete 'family entertainer'.
 Super Nani, which is based on the super hit Gujarati play Baa Ae Maari Boundary, is slated to release on October 24.