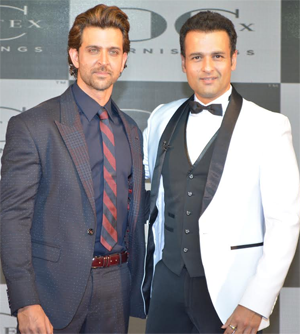 Bollywood Style Icon Hrithik Roshan has been in the news for designing his waterfront property, not for a showpiece mansion but for his own home. As an interior enthusiasts, he now turns home stylist and proudly announces his association with DCtex Furnishings. Hrithik Roshan, along with Nimish Arora after creating his own home was seen launching a collection titled 'Dream Runner' – comprising of new bed linen collection, curated by Hrithik himself from the House of DCtex which has a blend of Italian art.
DCtex Furnishings, one of the world leaders in upclass furnishing fabrics and upholstery mesmerized the crowd of over 600+ top retailers from all across India with the collection that comprised of a free-spirited bohemian appeal, a canvas of serenity and calm. A bright and vibrant summery feel, an isle of relaxed countryside charm, Dream Runner collection will offer stunning array of premium furnishings. With an objective to cater to today's well-travelled homemaker, this collection curated by Hrithik Roshan will offer the most tasteful selection in fabrics, textures, colours and prints. In a city where the dinner party is a key element in how the industry socializes, the collection by DCtex has an objective to create signifiers — be it in terms of sheer power (think the palatial houses in Beverly Park) or aesthetic cachet (such as an offbeat lair in Venice). The collection caters to people from all age group from toddlers to teens to adults.
Hrithik Roshan, the superstar who turn home stylist on this occasion said "A house that telegraphs the right image completes the picture in a statement-making way is my definition of an ideal home. I am glad to have partnered with Nimish Arora, the chief of a pioneering brand DCtex to style homes that script a personal style. i am excited to style homes that will help one define, create and implement an inspiring living space, a flexible but unique environment, staging a property to appeal to a wider audience. Drawing on a wealth of experience that DCtex has with a comprehensive portfolio of suppliers to meet the exact requirements, I will work seamlessly to ensure complete satisfaction of customers."
Mr. M.L Arora, Chairman of DCtex said, "DCtex stands for growth, fuelled by innovation. DCtex started with a singular vision of becoming a globally reputed name in the Home Décor industry. In a little over 14 years, today we are among the world's largest manufacturers of uber-chic furnishing fabrics and upholstery with a turnover of around 350 crores INR. Its now time to take the brand onto the next level with Hrithik Roshan to create finer nuances of home décor and enhance the experience of living spaces, we are proud to have him on baord."
On the professional front, Hrithik is busy with the shooting of Ashutosh Gowariker's Mohenjo Daro. Set in a period as early as 26th century BC, Mohenjo Daro is a romantic drama based on the Indus Valley Civilization. Also Kabir Bedi and Arunoday Singh will play the baddies in Mohenjo Daro. The shooting of the film is majorly done in Bhuj, Gujarat.