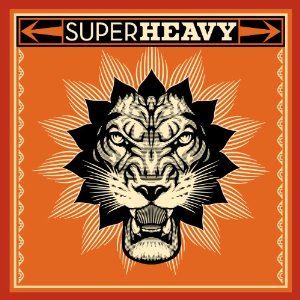 In sheer talent and stature, the supergroup SuperHeavy consisting of Mick Jagger, Joss Stone, AR Rahman, Dave Stewart (Eurhythmics) and Damian Marley matches the colossal Traveling Wilburys containing rock gods George Harrison, Tom Petty, Roy Orbison, Bob Dylan, and Jeff Lynne. However, supergroups have usually been beset with ego clashes and conflicting music styles especially the group Cream with Eric Clapton, Ginger Baker, and Jack Bruce each vying for the top spot during their fiery years together.
Yet SuperHeavy is definitely one of the most exciting and fresh pairings of artists. The group was the brainchild of Dave Stewart, who was listening to four different types of music at one time and listening to how the styles merged. Fans looking forward to AR Rahman's contribution may be a bit disappointed as he features on 10 of the 16 tracks, but Rahman's great technical finesse on all his albums is apparent throughout. The album certainly sounds like an ultra-fun jam session between very diverse artists getting to know each other's' sound and working together into a noisy musical gumbo!
The first track truly hits the ground running, SuperHeavy, is such a good opening track to showcase the singers and their different musical backgrounds. It starts with an almost Celtic sounding guitar riff by Dave Stewart, and he soon grunges it up against Rahman's bongo drums. Then Damian Marley trades his reggae toasting and vocals like a basketball between Mick Jagger and Joss Stone and it keeps the song so danceable despite all the intermingling vocals. Special mention to Joss Stone who matches the men step by step and belts her lyrics out like a true R&B diva. Rahman also gets to mix in his crooning during a slowed down interlude and he weaves a bit of dhol in there, which is a perfect way to end the song, and especially next to Stewart's pulsating riff.
We switch gears into reggae mode in Unbelievable, where Mick Jagger takes over from Damian Marley and he seems completely at home doing some toasting and brings the typical Mick squawk. The chorus of song is very catchy, and Joss Stone purrs her lines out like an item girl, which gives the song a better sound as the men croon and beseech a gorgeous girl. The reggae sound goes really well with Rahman's keyboard, and the he gets his own moment in the song to sing an 'Oh Rabba' bit and all the sing a saregama bit too, which sounds good too. In Rahman's musical solo, Jagger sings the bridge and their voices are fabulous together. This song is definitely a cultural exchange, which fits in with their globalization message throughout the album. Definitely, the Indian orchestra sound along with Marley toasting right near the end brings the song to a great harmonic close.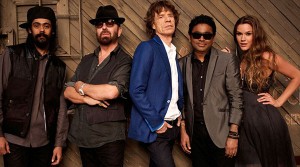 The song that has been rocking the charts so far, Miracle Worker, is definitely a perfect song to unleash on the public with each singer given a moment to shine and equal time to impress too! Joss Stone trades verses with Damian Marley about looking for miracles and love, and Mick Jagger brings his swagger in his individual moments. The song really makes you want to dance too, and it sounds like a big party for the singers too. Rahman has a lovely verse alongside Ann Marie Calhoun's lilting violin solo. A lovely track!
On Energy, a synth filled pop song that sounds very U2 with gritty guitar riffs by Dave Stewart and Damian Marley playing hype man to Mick Jagger who raps! Jagger makes a very noble attempt and it is average but weird! But when he calms down and goes into rock mode he has a lot of energy has fun, which is the main objective. Joss Stone also pipes in during the chorus but seems a bit out of her depth when standing next to rock vet Jagger. It just very overproduced here and not the best track out of the bunch. It sounds very cheesy by the end and does not do any justice to any of their talents.
Onto one of the better songs of the album, Satyame Jayathe, where Rahman takes over, and it starts beautifully with a tranquil choir singing the chorus. Jagger and Rahman both sing in Hindi, which is an interesting affair, as Jagger's snarl on the Hindi words just does not sound good. The song takes the usual reggae route and then veers into a rock during the chorus, these diverse genres mesh pretty well as Rahman maintains control over the proceedings. Joss Stone's interludes are dominated by the music. Ann Marie Calhoun and Dave Stewart also enter in the song near the end of the song and sound fabulous. Despite the drawbacks, the song is a good merging of all the singers' genres.
One Day One Night, sounds like a lost Rolling Stones record in the best way possible. Definitely, a favourite on the album, Jagger sounds like a barfly straight out the pages of a Beat Generation novel. The music is gorgeous for this song, not too gaudy or noisy, a simple piano and fiddle and violin in the back are in harmony with the gin-soaked lyrics. Damian Marley reveals a softer side to his voice, and he sounds fantastic. Rahman's characteristic orchestra sound also comes in midway and makes the song even more sorrowful. Joss Stone joins Jagger near the end and finally holds her own against the music and the man.
We veer into a less successful territory with, Never Gonna Change, where Mick Jagger takes over the song, trying his best to sound soulful and crushed but ends up sounding snivelling and too quivery. Jagger has one of the most iconic voices in rock history, but he does often falter with too much hamming and this is the case with this song. It is sad as the composition is slowed down and has a lovely plunking piano tempo in the back. Skip this one.
Joss Stone finally gets her groove back in, Beautiful People, she sounds gorgeous here with her breathy belting, and the layering of her voice throughout makes this song her own. Jagger sounds good in his parts, and adds his nasal twang every few minutes in the back. Damian Marley's toasting is equally innovative and funny at times, which gives the song a bit of a kick. It ends a bit anticlimactically but Stone and Jagger sharing whispery verses finally sound in sync with each other.
One of the stunners of the albums is Rock Me Gently, where Damian Marley again drops the toasting and unleashes a croaky and weathered voice that sounds utterly amazing. Joss Stone slinks it up on her backup vocals. When the tempo speeds up both Marley and Stone do not overdo it and go to screeching and keeps it low-key. Stewart's backing riffs make the song a lovely showcase for Marley and Stone to try something new.
We're back to louder territory with I Can't Take It Anymore, and if it initially sounds a bit too Poison-esque then Jagger takes over with his topical lyrics calling politicians 'scurvy' and 'magicians' which hardly sounds rabble-rousing.  The lyrics truly disappoint and the song is a bit too repetitive.
Another topical song with I Don't Mind, which has substantially better lyrics, if a bit heavy-handed. Full of symbols and repetitions, Jagger makes them stand out with his soulful crooning. Stone and Jagger sharing vocals, and they sound very warm and fun without their incessant showboating. However, Marley's toasting verse dominates the track and he steals the show with a very sly nod to fellow Eurythmics bandmate Dave Stewart with 'sweet dreams are made of me and who are you to disagree?' Marley is finally given a perfect outlet to display his skills instead of being used in most of the tracks to pepper in some toasting while Jagger dominates.
And then we get to the unfortunate, World Keeps Turning, which is the obvious 'we are the world' style anthem. Stone does stand out in the track despite the lacklustre material. The music is hardly there but the usual soppy sort of percussion we get in most anthems. Skip this one!
Finally, we get back to AR Rahman in Mahiya, as we start with a thumping dhol beat and cymbals at the beginning of the song, which gets you in a dancing mood. Rahman repeats the title like a chant and it sounds so good alongside the Middle Eastern sound that he infuses in there. Stone wows in her small interludes, as does Marley during the bridge of the song. Jagger stays in the back quietly humming along allowing Rahman to take centre stage which is thankful. Rahman's vocals are beautiful and this song makes you want to swirl around like the Sufi saints in 'Khwaja Mere Khwaja'. It is a shame that the song ends quite early which makes one wish for more.
AR Rahman opens the next track Warring People, and one hopes that would set the tone for the rest of the song. Alas the song is hampered by shoddy lyrics, and it is a shame that Damian Marley's only verse 'are you warring, are you warring?' which sounds like a nursery rhyme. The group are all over the place in this one, Jagger doing his usual posturing and Stone does what she can with the lyrics and salvages some of the song. Rahman's interludes of 'kaun haara kaun jeeta' are the better lyrics of the song, he intersperses them throughout the song, and it does work especially when he alternates them with various drums. Listen to it for strictly Rahman!
One of the best songs is Common Ground, which has a funky reggae beat mixed in with violins and fiddles and it is very enjoyable. Stone also has a chance to have without resorting to belting and screeching and that suits the song really well. Jagger also has fun too with some good lyrics and puts that Jagger snarl and swagger to excellent use on the track. Marley seems more at home with the reggae sound of the tune and he works really alongside Stone. The plunking riff by Stewart sounds very Santana and adds another layer of freshness and depth to the song.
The last track Hey Captain is a good way to end the album, Sir Mick does attempt to rap again with better lyrics, and it is a bit better than his bad attempt in the earlier Energy. The layering of African drums against the fiercely electronic beat sounds fabulous together. When the singers all join in during the chorus, they have energetic competition of who can snarl and screech the most but it does sound good in the end.
One must applaud Dave Stewart for putting together these diverse talents, but the result is quite a hodge podge of tracks and a glorified jam session between all these artists. When you have Mick Jagger as the bandleader, it is going to be hard for him not strut his stuff and sometimes the tracks suffer from his dominance. However, it is gratifying to hear Jagger outside of his Rolling Stones persona and enjoying himself with Keith by his side. Yet the album has produced two fabulous musicians in Joss Stone, who despite her overdoing the belting has a beautiful voice, and Damian Marley, who clearly has his dad's talent running in his toasting and talent. AR Rahman when he does feature always uplifts the proceedings but one senses he was added to the band to pepper in some Bollywood beats. Dave Stewart who also produced the album goes a tad overboard at times making a bit overdone at times.
SuperHeavy makes a noble debut with mixed results but they do suffer from 'too many cooks' syndrome, they definitely have a good rapport with each other and a unique quality. Definitely check it out to see the experiment.