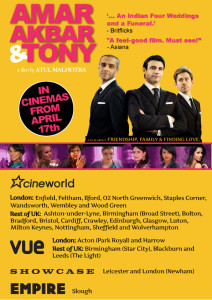 A touching coming of age story, Amar Akbar & Tony  follows three friends from different backgrounds as they stumble through life and the streets of Southall. Amar (Rez Kempton – Mystic Masseur, Spooks) is a Sikh whose promising legal career gets derailed,  Akbar (Sam Vincenti – Waking The Dead, Alfie) is an ambitious charmer with the gift of the gab and some acute observations on life, while Tony (Martin Delaney – Zero Dark Thirty, Flags of Our Fathers) constantly finds himself in love with the wrong woman.
The film releases this week on Friday 17th April at cinemas nationwide. Amar Akbar & Tony is a film that speaks to the British Asian experience in an honest and refreshing way that is rarely seen in UK cinema! We need your support to get the word out there and show that Britain wants and need more films like this with realistic, multifaceted characters of South Asian origin instead of tired stereotypes or token characters.
Be sure to check out our interviews with the cast including Rez Kempton, Martin Delaney, Karen David, http://bollyspice.com/100612/goldy-notay-amar-akbar-tony-is-a-modern-look-at-family-honour-and-the-quest-for-love-in-british-asian-londoners and director Atul Malhotra!