Meeruthiya Gangsters music album was unveiled today (7th september) by Indian cricketer Suresh Raina, who has also recorded a song for the film. Suresh Raina, who is a friend of producer Shoeb Ahmed, agreed to sing as a friendly gesture for Shoeb.
Apart from the title track, 'Meeruthiya Gangsters', the film's album boasts of catchy numbers like 'Hum Toh Jeete Hain', party tracks including the foot-tapping 'Mastam Mastam' and 'Babaji Ka Ghanta' along with the romantic song, 'Naina Tose Lage' sung by Rahat Fateh Ali Khan.
Present at the event were Producers Shoeb Ahmed and Priyanka Bassi along with Director Zeishan Quadri, Music Directors Siddhant Madhav and Vivek Kar and Singers Divya Kumar and Pawni. In attendance among the cast were lead actors Jaideep Ahlawat, Nushrat Bharucha, Akash Dahiya, Bijendra Kala, Vansh Bhardwaj, Chandra Choor Rai, Jatin Sarna and Soundarya Sharma.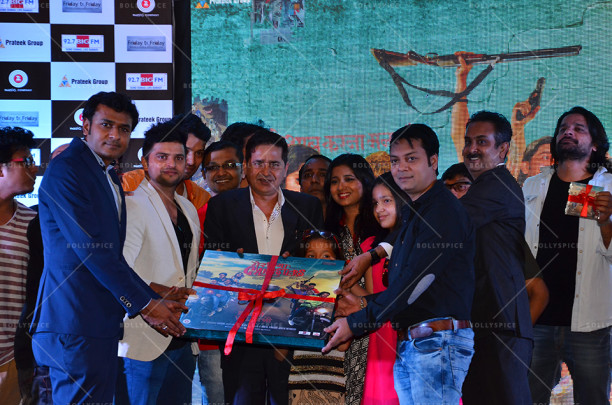 Talking about the music of the film and the song recorded by him, Suresh Raina says, "Cricket will always remain my passion and while playing, music has always given me company in between. While listening to music, singing became a hobby and I have been interested in doing something in singing when I am free. My wife Priyanka is from Meerut and the Producer of this movie Shoeb Ahmed is a family friend of mine, a few days back he discussed his upcoming movie Meeruthiya Gangsters and insisted that I sing a song for it. Priyanka further convinced me to utilize this opportunity for trying my hand in singing. On Sunday we recorded this melodious track and I really enjoyed it. I hope listeners and fans will appreciate my effort as they have all this while supported me whenever I am playing the game for my country."
Shoeb Ahmed said, "Suresh Raina's song has become a highlight of our film and the fact he sang so well shows he has many other talents apart from being a great cricketer. We have been friends for many years and it's a measure of his warm personality that he has sung for my film."
Set for a September 18 release, Meeruthiya Gangsters is being presented by Prateek Group and Anurag Kashyap and is a production of Prateek Entertainments and Friday to Friday Entertainers & Media Pvt Ltd Production. Produced by Prashant Tiwari, Prateek Tiwari, Shoeb Ahmed and Priyanka Bassi, and written-directed by Zeishan Quadri, the film features Jaideep Ahlawat, Mukul Dev, Aakash Dahiya, Sanjay Mishra, Vansh Bhardwaj, Chandra Choor Rai, Jatin Sarna, Shadab Kamal, Nushrat Bharucha, Soundarya Sharma, Ishita Sharma, Brijendra Kala and Malkhan Singh.