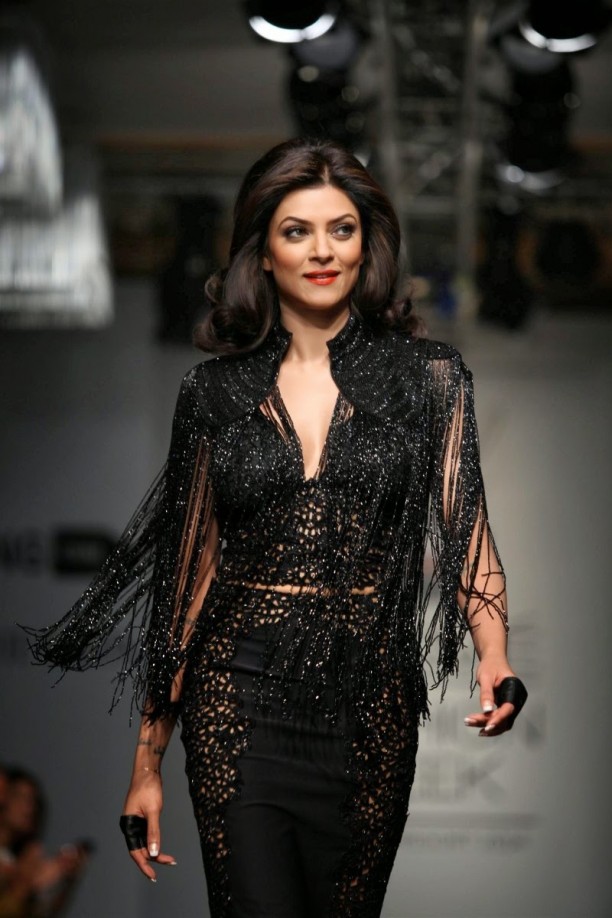 Popular actress and Miss Universe Sushmita Sen is the only Bollywood actor to be featured in a coffee table book titled 'The Indian Woman' curated for the President of India's gift for visiting international diplomats.
Sushmita features alongside Kiran Majumdar Shaw, Naina Lal Kidwai, Mary Kom, Gita Gopinath, Ela Bhatt, Bhanu Athaiya, Alisah Abdullah and Lata Mangeshkar, among other 20 women who are pioneers in their fields.
Her story is written by Priyanka Jain, who has co-authored a book on Vinod Chopra Productions and is also working on another on Paan Singh Tomar for UTV Disney. 'The Indian Woman' is curated by Shobit Arya, edited by the CNN-IBN anchor Richa Anirudh and published by Wisdom Tree.
The story celebrates Sushmita's journey from a young Miss Universe to a single mother with two kids and a successful career. Talking about celebrating inner beauty, she suggests, "If you go beyond limiting beauty by the length of your hair, size of your butt or parameters of your figure, you will find a beauty that's ethereal."
"Nature doesn't say wrinkles are ugly. Should I give up smiling – a thing that fills me with joy – just because I might get a few lines," asks the diva, who completes two decades since she was crowned Miss Universe in her teens in 1994.
The book, which is a collector's edition, "reflects India's pride and succeeds in passing on the enduring legacy of our highly creative and dedicated womenfolk to future generations," remarks Bollywood public relations impresario Dale Bhagwagar.
Narrating her experiences in the book, Sushmita urges women to find beauty through their confidence and surround themselves with real people, who are supportive of who they are, and are not around because of how they look.