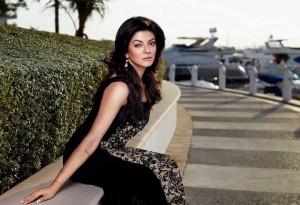 Yes it's true, the former 1994 Miss Universe (last seen in the Anil Kapoor, Sanjay Dutt flop No Problem), is all set to make a comeback to Bollywood! After being absent from our cinema screens for more than 2 years, the actress fills her time with her 'I Am She: Miss Universe India' pageant, and cares for her two adopted children, Renee and Alisah Sen.
She is a mum, actress, model, producer and director, so how does the actress cope with it? "From being a mother of two to running I Am She and my entire film production house is a daunting task… My daughters keep me on my toes because one is going to turn 13 and the other one 3," she claims.
At a recent award function, about her comeback Sen states, "Himangini Singh Yadu from our organisation just won Miss Asia Pacific award and so I am a bit relaxed now and can go back to doing movies. I have signed few projects so by the end of this or next year you will see me in a film."
The star and model, also speaks out about her venture Jhansi Ki Rani, (which the actress announced in 2007!) which marks her production and directorial debut, saying "Jhansi Ki Rani is on hold. I will make it only when I get the right budget. It's a story which is important to me and I will make it when the time is right." The film is now on hold until Sen states otherwise.
Keep checking back to BollySpice for the latest news and ghap-shap on the magical world of Bollywood!