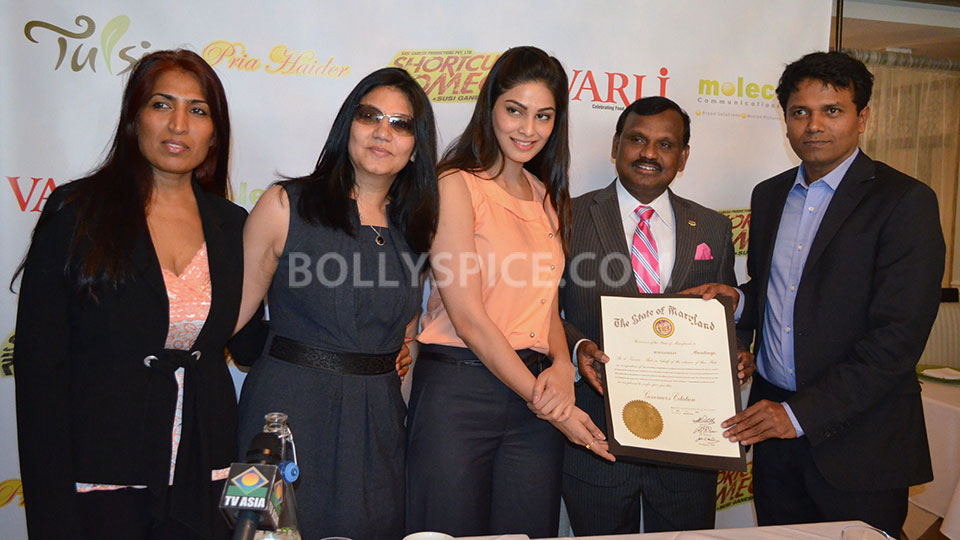 Susi Ganesh, the director of Shortcut Romeo was honoured by Martin O'Malley, Governor of State of Maryland with a citation for his contribution to Indian cinema. Susi Ganesh and his team were in New York to promote Shortcut Romeo after screening the movie and walking the red carpet at Cannes Film Festival along with actress Ameesha Patel and Puja Gupta.
Susi Ganeshan has directed some award winning movies in Tamil such as Virumbukiren, Five Star, Thiruttu Payale and Kanthaswamy. Recalling his 15 years of service and hard work to promote Indian movies especially Tamil and now Hindi, the Governor said, "The State of Maryland is proud to bestow the honour for his contribution to the entertainment industry."
The award and the replica of great seal of the State of Maryland was presented by Dr. Rajan Natarajan, Deputy Secretary of State of Maryland and one of the high-ranking Indian-American political appointees.
Shortcut Romeo is a remake of Susi Ganesh's super hit Tamil film Thiruttu Payale, produced by Manjari Susi Ganesh. It also features Neil Nitin Mukesh. The film will release on 21st June, 2013.