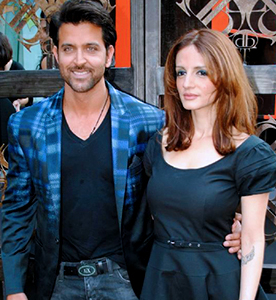 It sent across a wave of sadness and it was heart breaking when the press received Hrithik Roshan's statement about separation from wife and high school sweetheart Sussanne Roshan. He told the media that Sussanne has decided to end their 17-year relationship.
Sussanne's official statement read, "We are two individuals who respect and care for each other and have made our own individual choices. We are parents to two wonderful kids and our responsibility remains to protect and take care of them. Nothing can change that. I would appreciate if we are given our privacy in such a time. Thank you for your warmth and concern for both of us and the family."
Hrithik posted a message on his Facebook page which read, "This is my greatest tribute to love. Sussanne is and always will be the love of my life for the rest of my life. If her smiles are brighter without me my love for her must accomplish that. Unconditional."
Hrithik and Sussanne Roshan have announced their separation a few days before their anniversary, which is 20th December. Hrithik is currently abroad undergoing treatment for his headaches.