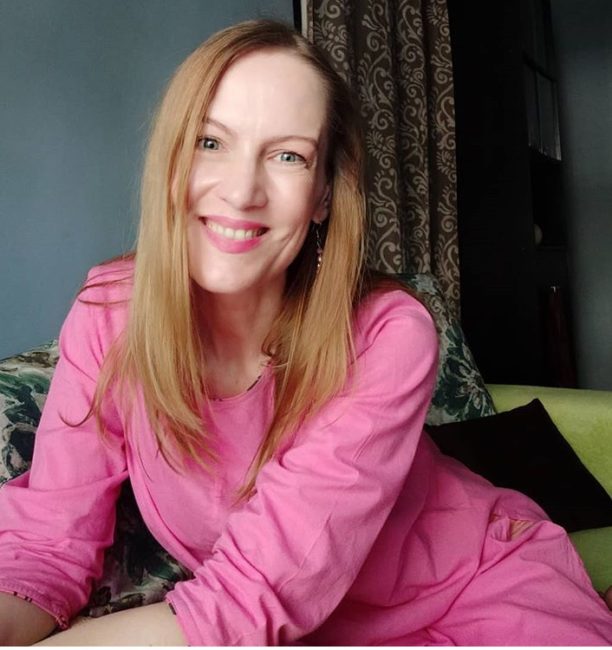 From her first role on the hugely popular TV show Astitva Ek Prem Kahani and more, to working on Honeymoon Travels Pvt. Ltd. to starring in The Accidental Prime Minister as Sonia Gandhi, German born actress Suzanne Bernert certainly has impressed with her performances.
In this very special conversation, Suzanne talked to Stacey about her desire to be an actress, coming into the Indian film and television industry, her transformation into Sonia Gandhi for The Accidental Prime Minister and even reveals some fabulous inside stories of her work in the industry!
So, was being an actress and part of films always something you wanted to do?
Yes, I am one of these boring people who always wanted to be an actor. Apparently from the age of 4 when they asked me what do you want to be when you grow up, I would say I am going to be an actress.
Now it has come true, how amazing is that?
Yes, it is but I never imagined it would come true here.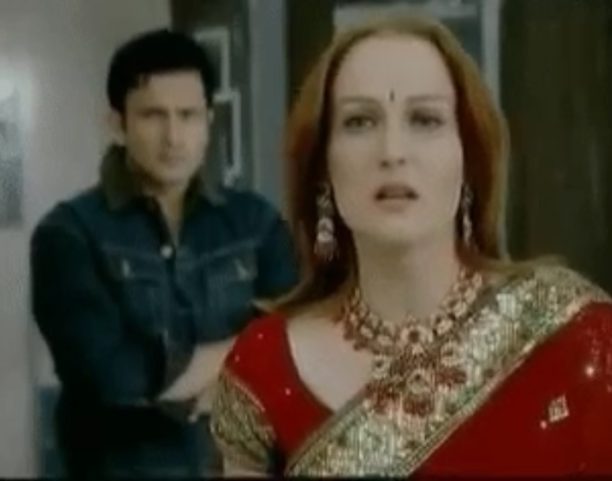 What was your path to becoming a part of the Indian film and Television Industry?
I was in Dubai on holiday and somebody was looking for someone to play the best friend of the lead in a movie. The movie was made entirely in Dubai. I met the director and since he couldn't find the lead, I became the lead.
Through that I met a lot of people coming from Mumbai including Ajai Sinha. He was making a movie at that time in Dubai and he had a small character for a foreign artist and I did that. Now, I had no idea about Indian films, or Bollywood, but I did read magazines, listen to the music, watch the videos and went 'aacha this is nice'. Slowly, slowly I was introduced to this whole thing.
Then I went back to Germany and thought that is it. However, he [Ajai Sinha] invited me to come to Mumbai on holiday. This was in September 2004. I think I stayed for 2 weeks. He is also a television producer and a director, and he was introducing me to his show Astitva Ek Prem Kahani. I met a lot of people like Alok Nath, Harsh Chhaya… a lot of real well-known faces but for me I didn't know who they are. I got introduced to the whole thing and I was like oh this is nice…. See, as an actor, you see a camera and you are like 'Yay! Me too, me too!'
In December 2004 he called me and said there is a part for a foreign girl on the show – do you want it? I was like of course I want it! (Laughs) So that is how this whole thing happened.
I remember the first scene was that I had to touch the feet of a person in the family. I got all red in the face and very nervous and was like why, what is this supposed to be. (Laughs) Also they put me in an orange kurta. I was like are you guys mad – I was a typical German who only had white, grey and black in her wardrobe and all of sudden I am in orange and green.
But the whole team made me so welcome, they were warm, and it was very nice. I enjoyed it a lot.
Then Doris Bajaj came to me on Kasautii Zindagii Kay. You know, I didn't want to do it because I knew it would be very tough, but I ended up being the first foreign daughter in law on Indian TV on the biggest show at that time.
So, it was not planned – it just happened to me.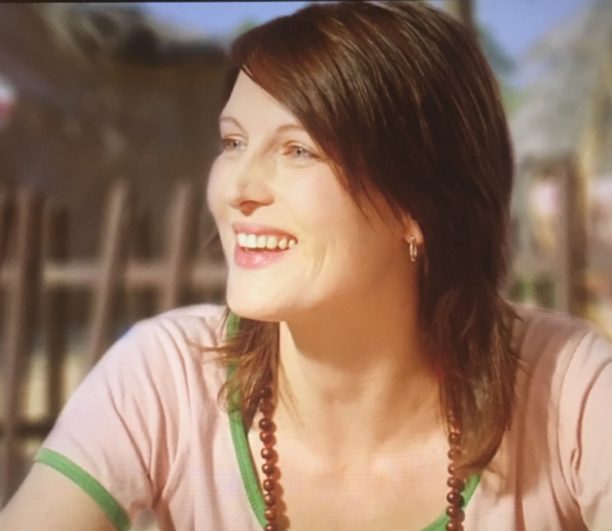 I believe your first film was 2007's Honeymoon Travels Pvt. Ltd., what do you remember about being on that film?
Actually, you know I did not want to do the movie, because when I read the script it said she was an overweight tourist. I did not want to play a tourist in my first film. That was too much of a cliché, but then it turned out to be all good. I have very fond memories of that film. I had scenes with Shabana (Azmi) and Boman (Irani) and you know, to this day Shabana and I remember that movie and that we worked together!
Actually, during the shoot, Shabana was kneeling in the sand giving me the cues and the director nearly had a heart attack saying to Shabana what the heck are you doing. Boman is a darling, he calls me Ditta which was the character's name and I call him Oscar.
There was a special scene on the beach with Boman and Shabana and I remember we had problems with the camera in that shoot. One day the camera jammed, one day there was so much wind and storm we could not shoot. One day something else happened. For that one scene I flew to Goa three times and the shoot never happened. So we actually shot the thing in the studio in Mumbai.
I do have great memories. Though I remember that I was shooting for 4 months and then when you see it my part became a montage because the movie became extremely long!
What has been the most challenging thing about being a part of the industry?
I think, for me, it is a waiting game because I don't know where the next character is coming from, because I am the blonde in Bollywood. I am one person who is not trying to be Indian. I am the actress who plays foreigners and sometimes half Indian/NRI's so I never know where the next film or character comes from. The waiting…
But sometimes I am just jumping from one job to the other and then there are months where nothing is happening, and you don't know when the next thing is coming.
What is the best thing about being a part of the industry?
The love, the warmth and the acceptance. The more that people realize you bring a solid background, the moment that the industry people see that you are not just playing around, and you are serious about your art you get a lot of welcome.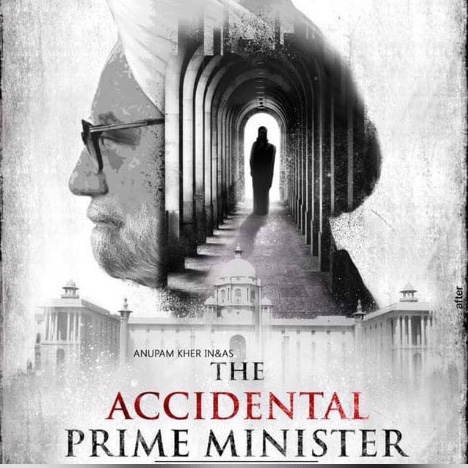 Tell us about the process of getting the role in The Accidental Prime Minister.
In 2017, Anupam Kher had tweeted a poster of him in the get up. In one of the first posters, there was, in his head, a figure of woman in a sari and I thought if Manmohan Singh's story is to be told Sonia Gandhi has to be there. On the poster Bombay casting was mentioned. So I started writing to them: I wrote to them on Facebook, I wrote to them on Twitter, tweeted to Anupam Kher who actually says he can't remember that – he does have millions of followers so I can understand that. I was emailing, calling and I couldn't reach anyone. So, I thought okay this is not going well, and we went to Germany.
Then when I was in Germany, I got the call – we want to audition you. I was like how do I do this? I said, small problem I am in Germany. They said that is not a problem, we are sending you two videos and we want you to recreate them. One of them was an interview of Sonia Gandhi and one was her speech where she was renouncing the Prime Ministership. My husband [Akhil Mishra] was shooting these two videos in the hallway of my parent's house. I was wearing a shawl from my mom and I just tied my hair back and I put on reading glasses from my dad. Actually I couldn't look down because I got dizzy. We did a couple of takes. See my husband is an actor and director, na! He got the performance out of me.
We sent them and I didn't hear anything from them for 2 weeks and then suddenly they came back yes, we want you! They said after seeing my audition they didn't look at anyone else. After some delays, we started shooting in March in England.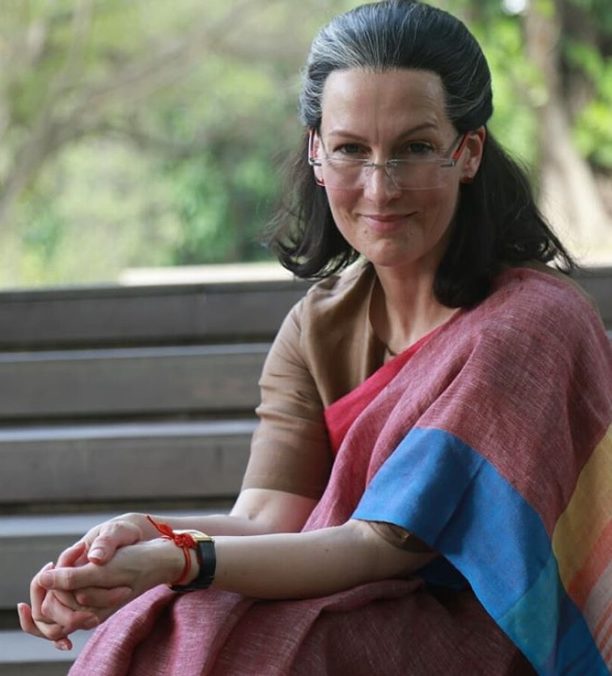 What sort of research did you do to play this character?
They give you a docket and this docket has pictures, video links and reference material that they knew would help you. Especially since we were shooting those portions of her life in the movie. It was very well researched from their side. You know, I am a director's actor, so I stuck to that. I just wanted to put forth that vision.
I was obsessed with one of Sonia Gandhi's videos, she was at the Hindustan Summit and she was interviewed by Vir Sanghvi the journalist. In the interview there were a lot of very nice things for an actor because there was a lot of hand movements, there was facial movements and little tics she was having. See you don't get that in any parliamentary speech you only get that in an interview. This one gave me a lot of material to work from. It was my favorite.
Is it harder to play a real-life character?
Yes, yes, yes because we don't want to make a mimicry. You want to be as real as possible. I watched many biopics and watched how they did it, like Margaret Thatcher, The Queen and more. It made me let go of the idea that you had to be a 100% match. It is more important that you feel it from the inside. You have to make it real from the inside.
Were you nervous?
Yes, you are always a little nervous and that adds a little something that you need.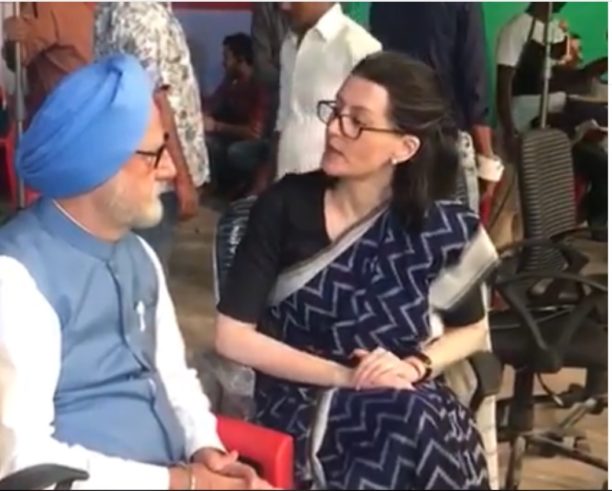 Tell us about working opposite Anupam Kher.
He is a very jolly and very nice fellow. He is very sweet. The first time we ever met he hugged me immediately and said welcome on board – I am so excited. It's going to be great. We got along very well. We did have one problem, in Bradford when we started shooting – we met normally at breakfast and then we met on the set in full get up. We both turned to the director and said give us a second we have to adjust our realities because he was not looking or sounding or performing like him and I was not looking like me.
Here is another hilarious story…
I shot that whole day in that get up and then I changed into my normal look. I was outside checking with the camera assistant and he was asking me seriously, 'So, what do you do? I said, excuse me? He said, what are you doing here? I said, I was just in front of the camera… he was like where in front of the camera… I was playing Sonia Gandhi… what are you talking about!?!' The crew did not recognize me. The blond chick was coming in the morning, Sonia Gandhi was on set and then the blond chick came back, and nobody knew the rest of the day where she was the rest of the day!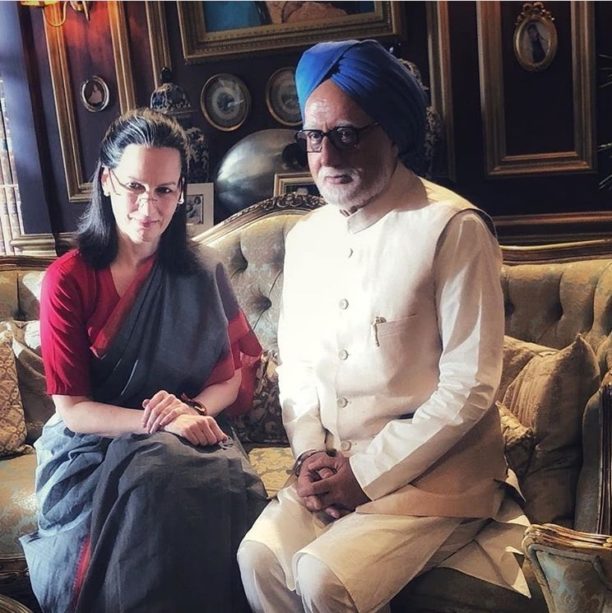 Looking back overall shooting The Accidental Prime Minister what would you say?
Once in a lifetime.
This movie has really pushed me. You know this movie was shot in English as well. Every shot was in English and in Hindi. It was really, really tough and really, really great. This was the first time in my life that I had to do something like this. See it was not dubbing, it was shooting the scene in Hindi, then it was like okay, now start again and do the exactly same thing: the same body position, the same mannerisms and everything but do it this time in English.
The first time we did a take they asked me what I wanted to start with, and I said to Anupam Hindi mein because I actually was more comfortable with the Hindi than the English. (Laughs)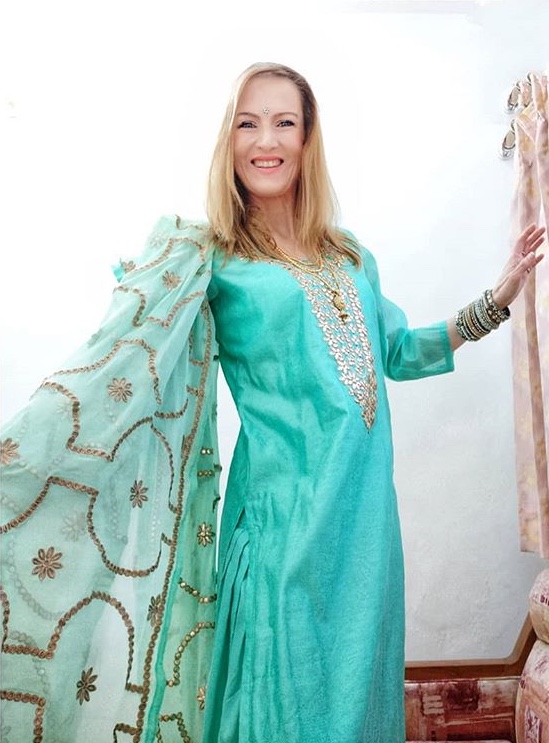 Looking back over your experiences so far what would you say?
You could make a Bollywood movie out of it! (Laughs) You could make a movie out of it the way I met my husband, the way I got the first TV show. Then Sonia Gandhi happened. It is very dreamlike you know. What will come next, I don't know… but I am looking forward to it in whatever form it will be.
Did you ever imagine that this would be your life and be your career?
Like I said when I was 10-12-14, there was this huge yearning to act, just be in front of the camera. I thought, I dream, I want, and I hope this yearning will be satisfied. But, no I would never have imagined this. I would never have imagined India, I would have never imagined Bollywood. I feel very blessed!
It was truly fascinating, fun and wonderful to talk with Suzanne and get an inside look into the "Blonde in Bollywood's" career so far. I have no doubt we will be seeing her in many more movies and incredible performances in the future!
Be sure to check out her transformation into Sonia Gandhi in The Accidental Prime Minister, which is currently playing on Zee5 and soon to be released on AndPictures.