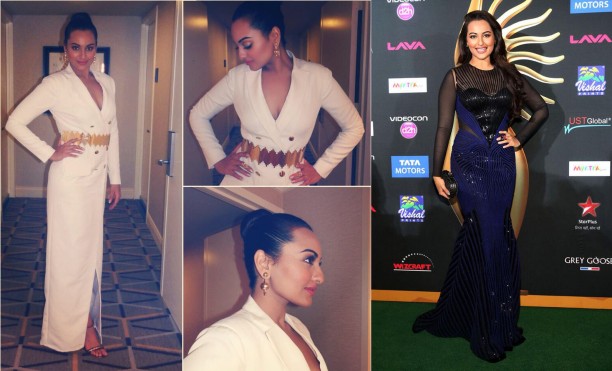 Matching up to her uber-fit, action-girl character in the forthcoming blockbuster film 'Holiday: A Soldier Is Never Off Duty'' actress Sonakshi Sinha revealed her amazing new svelte figure during promotions for the film with co-star Akshay Kumar.
The Bollywood beauty flaunted her super-toned midriff in a salmon pink skirt-top combo during a special appearance on talent show Dance India Dance, in Mumbai recently. She was joined by an energetic Akshay Kumar, as the pair chatted to the young contestants and entertained the studio guests. Sonakshi also showed off her slim-line physique on the green carpet at the recent International Indian Film Awards (IIFA) in Florida.
Sonakshi recently revealed how a fundamental change in her lifestyle has enabled her to beat the bulge and get in shape. She told Hindustan Times newspaper: 'To get in shape involved me giving up what I loved the most — good food. But when I started training, I realized that fitness is actually a combination of physical and mental wellness. Fitness involves bringing about a change in your lifestyle, which includes choosing the right food, exercising regularly and thinking positive. And it leaves you feeling healthy from within.'
Produced by Akshay Kumar's production company Hari Om Entertainment and Vipul A Shah's Sunshine Pictures, Holiday is an intelligent, high-octane, edge-of-your-seat romantic thriller, which delves into the dark labyrinth of terror cells, bomb plots and international espionage.
The film is directed by renowned filmmaker A. R. Murugadoss, who made the worldwide blockbuster Ghajini, Holiday sees the talented and versatile actor-turned-producer Akshay Kumar joined by a stellar cast comprising Bollywood siren Sonakshi Sinha (Dabangg, Rowdy Rathore), who plays love interest Nisha, and veteran actor Govinda (Raavan, Partner), who ably performs the role of Akshay's senior commanding officer. Newcomer to the Bollywood arena Freddie Daruwala shines as the ruthless and brutal leader of the terror cell. The music for the film has been penned by maestro Pritam Chakraborty.
Akshay Kumar essays the role of Virat Bakshi, a military officer who is on holiday with his battalion in his bustling home city of Mumbai. However, unbeknown to his fellow officers, Virat is also an undercover Secret Defence Intelligence Agent, masterly skilled and trained in covert anti-terror intelligence operations. Whilst on a family visit to Mumbai, Virat is caught up in a gruesome terror attack that sees a crowded bus blown to pieces.
But this is just the beginning of the story for Virat, as he gets drawn into a sinister web of lies and deceit in his quest to bring the very top echelons of the terror mafia to justice before they strike again in the heart of Mumbai – the city that Virat holds closest to his heart.
This Summer audiences will be gripped with intrigue, action and thought-provoking drama interspersed with romantic elements, as 'Holiday: A Soldier Is Never Off Duty' gets set to infiltrate peoples' hearts and minds.
'Holiday: A Soldier Is Never Off Duty' is released through Reliance Entertainment worldwide on 6th June 2014.