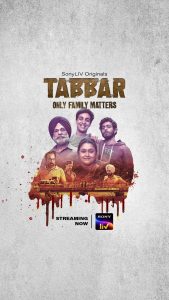 Tabbar(SonyLIV, 8 Episodes)
Starring Pavan Malhotra, Supriya Pathak, Gagan Arora, Paramvir Singh Cheema, Kanwaljeet Singh and Ranvir Shorey
Directed by Ajit Pal Singh
There is much that is wrong with Tabbar, an 8-episode tense and traumatizing drama that asks what Manoj Bajpai asked in The Family Man: how far would you go to protect your family?
Not that Tabbar is in any way related to The Family Man. They are as separate as Jalandhar and Jaffna. Set in the curiously vivacious bustle of Jalandhar(cinematographer Arun Kumar Pandey captures the city's din with dignity) it has the extraordinary Pawan Malhotra as Omkar a petty entrepreneur and patriarch with a wife and two sons.
One night, their lives go horribly wrong and thus begins a distressing horrific downward spiral that can only go one way. Like I said, Tabbar portrays a doomed family downfall in episodes that don't always add up. Malhotra's character doesn't quite make it to the grade of a gender-reversed Mother India. The actor is not to blame if his character's actions. The actor need not take responsibility for his character's actions.
Once we accept the deep flaw in Omkar Singh's skewed morality and messy modus operandi, it all makes a kind of blindsided sense. The writing(Harman Wadala and Sandeep Jain) grows exponentially hazy, as the relationships so lovingly adumbrated in the initial episodes begins to crumble under pressure.
Director Ajit Pal Singh exercises a tight control over the proceedings that prod the drama from the poignant to the perverse. There are no loose ends in the narrative. Although bits of it may seem oddly incongruous to the outsider it's finally about plotting ways to keep the family from falling apart.
Given the growing absurdity of the crime-leaden family's predicament Tabbar carries the weight of overstatement well on its shoulders. Pawan Malhotra and Supriya Pathak bring nuances to their stereotypical roles(strong obdurate father, frail devoted mother) that are hard to pinpoint. Sahil Mehta and Gagan Arora as their two sons, frequently look lost in the maze of crime. But Paramvir Singh Cheema as their Sikh cousin-cop positions his character's dilemma well into a storm of strongly handled crises. Cheema is a find.
But why must serials underuse the extraordinary Ranvir Shorey? As the grieving gangster/druglord determined to seek revenge Shorey struggles hard to lend dignity and credence to his uni-dimensional character. In Episode 5 he gets some space to shine when passages showing him exercising extreme physical violence are juxtaposed with hands on the piano.
It is not a moment of any remarkable subtlety. But it is a sharply-drawn inward breath of characterization that one finds grievously absent from the series as whole. Nonetheless as a portrait of a family in a crisis Tabbar holds your attention till the last.