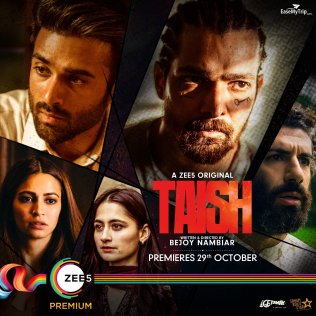 Taish (Zee5)
Starring Harshvardhan Rane, Jim Sarbh, Pulkit Samrat, Sanjdeeda Sheikh, Kriti Kharbanda
Directed by Bijoy Nambiar As I finished watching this lengthy masterpiece, indeed a masterclass in adroit storytelling with room for every character to breathe even when they are destined to die, I thought not for the first time… Oh Frog, what am I doing watching this at home???!!!
Taish is a big-screen experience in every sense: big emotions, big egos, big fights, big vendetta, big screams, big silences…This is the kind of internecine vista of continuous bloodshed and vendetta that would end up being no more than an exercize in gratuitous violence in lesser hands. Not Bejoy Nambiar. I've watched his work closely and admired it since he started with Shaitaan.
Today Nambiar has leapt far ahead of his mentor Anurag Kashyap. Taish is proof of it. It is so sinfully engaging that I couldn't take my eyes off the screen for even a second. And never mind the size of screen. Smothered screams of anguish that never escape the lips of the myriad characters hover in the air in this beautifully mounted saga of affluence, crime and vengeance. Every character is anguished, torn, doomed. Even the buoyant Pulkit Samrat, appropriately named Sunny who comes to his lifelong buddy Rohan (Jim Sarbh)'s kid-brother's wedding …only for the festivities to turn into ashes as bullets fly, remembrances of stings past mingle into vengeance in the present.Oh, what a royal mess life can be!
Taish is not a film that lets you relax for even a second. Even the lighter moments are infused with an arsenal potency. There is a brilliant pre-wedding dinner sequence where Rohan's father tries to bait Rohan's Pakistani girlfriend Arfa (played with a natural grace by Kriti Kharbanda). The way that lengthy sequence builds up into a fireball of funny feisty and fearless dialogue is a sign of mature and skilled writing. A shout-out to the exceptional writing skills of Kartik R. Iyer, Anjali Nair, Bejoy Nambiar and Gunjit Chopra.
This is a film that shatters the hearts of every character and then let us, the audience, pick up the pieces from the ground. While every character stands out the crafty screenplay is owned by Harvardhan Rane's Pali. A lover, a killer a helluva tormented soul, Rane's eyes tell it like it is. He's a revelation. The other actors too, every one of them from Ankur Rathee as a doomed groom to Saloni Batra as an outlawed daughter-in-law, gets into the swing of things with a ferocious fluency.
A special word for Pulkit Samrat who starts off as the somber plot's comic relief and ends up as something else…how long is the film industry going to neglect this versatile effortless actor?
Outwardly it's a story of two affluent families at each other throat. But to see Taish as a revenge saga is to look at Devdas as a story on alcoholism. There is so much going on beneath the surface that one viewing isn't enough. The simmering discontent beneath the surface is placed against the striking beauty of the English locations. Cinematographer Harshaveer Oberoi is director Nambiar's accomplice-in-crime. Nambiar calls the shots. Oberoi pulls the trigger.
Picture-perfect and turmoil-infested, Taish is at heart two love stories about star-crossed lovers. Jim Sabh-Kriti Kharbanda and Harshardhan Rane-Sanjeeda Sheikh's passionate alliance is so passionately put across I came away wanting to know more about their relationship. I intend to watch the extended 6-episode version of this fine feature film as soon as I can. I recommend the same for all.