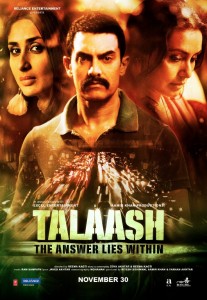 We have been subjected to a long wait for Reema Kagti's Talaash to release in cinemas and it will finally be doing so on 30 November 2012. This crime thriller stars not one, not two, but three superstars in the leading roles, which adds to the film's appeal. They are Aamir Khan, Kareena Kapoor and Rani Mukerji. Hopefully this film will be another great entertainer for us all in a year when we have seen some pretty amazing films coming out of Bollywood. The music to Talaash has been composed by Ram Sampath, who has given us albums like Delhi Belly (2011) and Khakee (2004). The lyrics have been written by the legendary Javed Akhtar, who has recently provided lyrics for soundtracks like Don 2 (2011) and Zindagi Na Milegi Dobara (2011). So is the soundtrack to Talaash worth listening? Well let's take a look and assess whether or not it is.
The first track in the album is Muskaanein Jhooti Hai, performed by Suman Sridhar. The music has a very strong jazzy flavour to it and has been well performed by Suman also. It is finely picturized on Kareena Kapoor, who is the one that is provocatively miming to it in the music video. I think this kind of music is something which we hear on an infrequent basis in Bollywood and thus, I recommend that you give this one a listen. Sampath's experiment with this song has certainly paid off and I am sure it will grow in popularity!
Next up we have Jee Le Zaara, which is sung by Vishal Dadlani. This is another catchy track which has a strong masculine edge to it thanks to Vishal's superb vocals. He sings with intensity and it is this particular quality which makes the song itself very appealing to listen to. Another great one which you should not miss out on listening! The same however cannot be said for its remix, which has been done by Mikey Mccleary. Given that it is a five track album, I felt this was to some extent included as a bonus to make up for the limited quantity of tracks included. There is nothing that will wow you about this remix and it can be classified as a skip worthy track.
We also have Jiya Laage Na, which is performed as a duet by Sona Mohapatra and Ravindra Upadhyay. Although Javed Akhtar has penned some great lyrics for this song, I found that the upbeat and fast composition just did not work for me. Both Sona and Ravindra provide us with passionate vocals and they can be deemed as flawless. My main problem is the composition and given that Sampath was presented with some well-thought-out lyrics and talented singers, he should have created a more classical, yet modern, composition instead. This would have worked much better in my opinion. Overall, a mediocre composition but strong vocals and lyrics accompany it nevertheless.
There is also Hona Hai Kya, which is sung by the film's music director Ram Sampath. This is quite a weak track and there is nothing charismatic about it. Sampath's vocals are average and there is nothing about the music itself which will grab your ear's attention. Perhaps it may acquire greater notice once the film has released and we see what particular scene or situation it is included in. However I think that as a song it is quite dull and therefore, I recommend that you give it a miss!
Finally we have Laakh Duniya Kahe, performed by Sampath, with Nisha Mascarenhas providing backing vocals. Although the song stretches a little, it has nonetheless been beautifully sung by Sampath and Javed Akhtar provides us with some warm lyrics for this one also. I actually prefer Sampath's voice much more in this song compared to 'Hona Hai Kya'. Musically, it has also been well composed and you can hear instruments such as the drums and the guitar. The song will no doubt spark attention, but I think it will become even more popular after everyone sees the film and the picturization to it. This definitely makes up for the dreary 'Hona Hai Kya' so give it a listen as it is probably one of the best tracks in the album!
In conclusion, although there is nothing phenomenal about the soundtrack to Talaash, it does still deliver as promised. It can be said with confidence that public expectations have been greater for the film itself rather than its soundtrack. However, the soundtrack does provide us with some catchy tunes that you may find appealing to listen to. The best tracks in this album are 'Muskaanein Jhooti Hai,' 'Jee Le Zaara' and 'Laakh Duniya Kahe' and I think these ones in particular will gain the approval of Bollywood music lovers. They certainly did for me! Though it could have been even better, nevertheless, I feel that Sampath has made a decent attempt with this album. This is especially since he was under immense pressure to create music for a film which has a very famous ensemble cast attached to it. In addition, although Talaash is not Javed Akhtar's best work as a lyricist, he has still provided us with some authentic lyrics that are worth hearing. Overall though, the soundtrack to Talaash is like a box of chocolates: it contains a little 'good' and a little 'not so good' in it. Yet it is still an album that is worth listening!