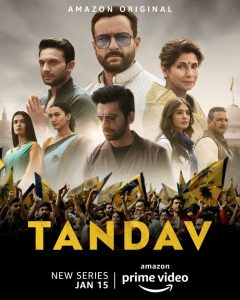 Tandav (Amazon Prime, 9 Episodes)
Starring Saif Ali Khan, Dimple Kapadia, Sunil Grover, Tigmanshu Dhulia, Mohd. Zeeshan Ayyub,Gauhar Khan and Kritika Kamra.
Directed by Ali Abbas Zafar
Tandav seems to have bitten more than it can chew. There is so much activity, such frenzied happenings as politicians, policemen, students and power brokers go on a rampage. And yet at the end of the exhausting series I was clueless about the variety of politics that the writers of this scattered series want to preach. The screenplay seems to be a jumble of recent political headlines. Evidently the writer's heart bleeds for the politicization of Jawaharlal Nehru University politics, here faux-acronymed into VHU. Their sympathies are with the students, and that's fine.
And yes, Mohammed Zeeshan Ayyub as a faux-Kanhaiya is brilliant in a cast that overall proves less than capable of shouldering the political chaos of the series. (We won't go into the creative anarchy, at least not yet).
In Tandav , the manner in which campus politics is fused into parliamentary politics is just not convincing. The two worlds remain stubbornly separated inspite of determined efforts to bring them together. At one point a student leader is kidnapped by a politician's goon-in-chief(Sunil Grover, good to see you get out of the saree) and brutally strangulated. His body shows up on the university campus when a watchman pees on a hand protruding from the soil.
A touch of Ramsay in Prakash Jha's universe, what say? The plot tries its quota of shock tactics but clearly has no clue as to how blasé the audience has become of late. Other political dramas like the far more powerful Undekhi and the poorly crafted Dark 7 White have come before Tandav to steal its thunder.
Tandav is a regrettable case of too little too late. It means business, and some of the crowd scenes showing disrupted kissan rallies and police attacks on hapless students are impressively staged. But the series lacks cohesion, even coherence. Until the end I had no clue about the kind of humanbeing or politician Samar Pratap Singh (Saif Ali Khan) is meant to be. In the first episode he poisons his own father (Tigmanshu Dhulia) to usurp the prime ministerial throne and then spends the rest of the playing time being insulted by his dead father mistress Anuradha Kishore. And I thought patricide was dead with the Moghul empire.
Clearly the Saif-Dimple face-offs are meant to be the show-stoppers. Alas, the writing is so poor at times that the punchlines sound like forwarded, poorly worded, Whats App messages. At one point Anuradha,in Dimple's husky voice, tells Samar, "The pest control guys have come. It's best that you stay seated."
Saif, with his expressive face, is allowed to show only two expressions: sulk and seethe. He does both well but gives nothing away about his character that we want to know. Dimple Kapadia holds the key to the Machiavellian plot. She is lost in a role that requires Shabana Azmi. Her expression is mostly fixated on that far-away look of a housewife whose mind is on what's cooking for dinner.
Dimple's scenes with her secretary/protégée/confidante Maithili (Gauhar Khan) are unintentionally hilarious.Ms Khan's character has been written in so that Dimple can "think aloud". In the later episodes Maithili is given some conspiratorial moments with Sunil Grover where they behave like co-passengers on a turbulent flight to a destination neither is sure of.
Plenty happens in Tandav. But it doesn't add up to much at the end. So much more could have been done with some of the supporting characters. But the characters seem like travelers stranded on a terminal waiting for that promised flight to salvation. As for Dimple and Saif, their confrontations are so sporadic unfinished and polite you wish someone would pull them together and remind them that this is a political drama not a kitty party.