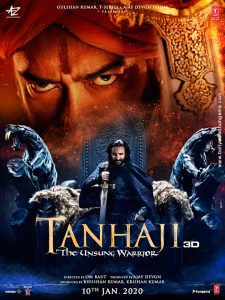 Between the Mughals and the British Raj came the great Maratha empire, where the Maratha kings spread far and wide through India, trying to bring together peoples of a disparate land. Ajay Devgn's new film Tanhaji is based on Tanhaji Malusare, a military chieftain under the Maratha King Shivaji. As thus a period piece, but also one that doesn't involve a lot of dancers, the music must perform as backdrop to what is a riveting tale of war and spirit. Four songs have been given by 3 music directors Ajay-Atul, Mehul Vyas and Sachet-Parampara to make for a powerful 16-minute album.
In the track Shakara Re Shankara the backing dancers cry out "Shakara Re Shankara" in what is both item song and powerful tactical chess move rolled into one. From a story point of view, this is a critical moment with protagonist and antagonist facing off for the first time. From a musical point of view though, the song hides in obvious tropes, doesn't go anywhere and lacks any feeling of anything but mocking. Even that is only after the audience understands the lyrics which while limited are in a more classical form of Hindi, so it does require a bit of translating.
Sukhwinder Singh and Shreya Ghosal seem to be an odd pairing and not often used in Bollywood but for Maay Bhavani, they are very much the perfect band to bring together. Sukhwinder's loud voice works well for the highly masculine lyrics of Ajay Devgn's character, while Shreya brings a lighter, smoother feel to give the female perspective. Musically however this is much like the previous song, in that there's not a lot going on once the initial rhythm is set. This one has more of an excuse however in that it's the backdrop to a religious festival moment.
Ghamand Kar is a song that almost speaks for itself. Again, not a lot musically speaking… once a rhythm is set, it gets used throughout the song. In this case it's a power rhythm by Sachet-Parampara, in similar stylings to any other war song that has been done in Bollywood so far. An interesting touch was to use conch shells to generate the sound of the gods, as would be played in many temples across the world. Sachet and Parampara take to the mics themselves and do the job that is required to give this song the greatest impact behind the visuals.
The final song of the album is a sad song by Harshdeep Kaur, Tinak Tinak. In all of war, its important to remember that there will be fallen, those who will not return home; this is the song for them. The shennai is both a powerful reminder of weddings and family, as well as the sadness of loss, the grief of those left behind once the battle is done.
At the start of 2019, Bollywood presented Uri, a film about a surgical strike carried out in 2016 by a real-life team of commandos. Tanhaji is the same film for 1670, who until now has remained unsung, even though he seems to have been something of a hero that all looked up to. At the end of the day, this album shows that Tanhaji will have to remain so. Of course, the album would always take a back seat to the story and Ajay Devgn not being a strong dancer would mean we couldn't have a Sanjay Leela Bhansali style extravaganza but none of these songs stand out or step above the others to shine in Tanhaji's glory. It may be coincidental, but its interesting that 'Tinak Tinak' seems to be the most impactful song here.